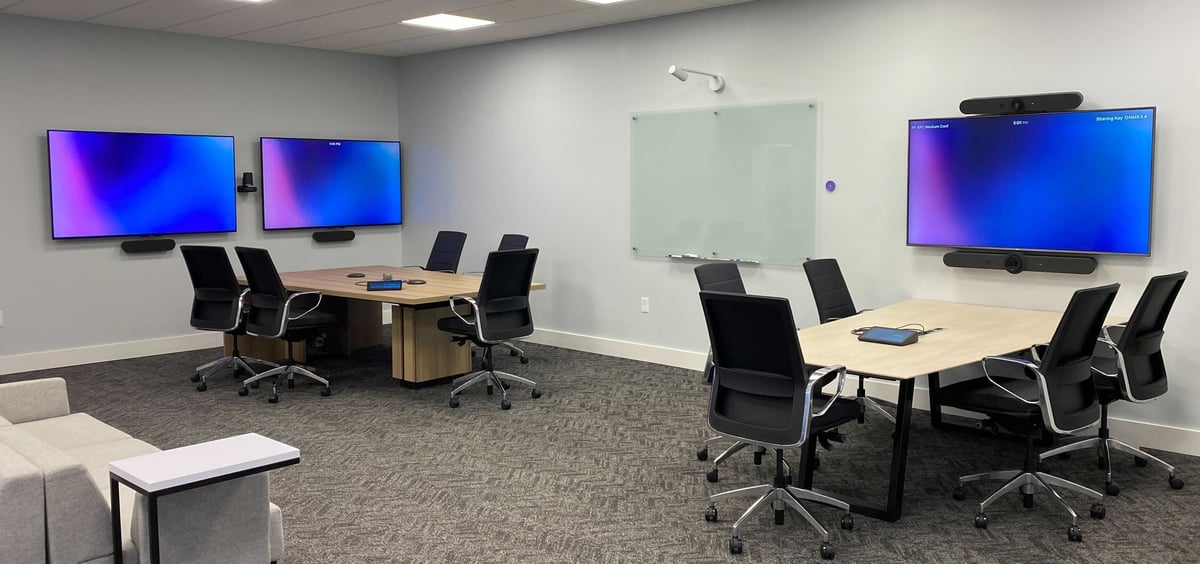 Why an Experience Center?
Before purchasing equipment or designing an office space, walking through an AV Solution Provider's experience center provides the context needed to piece together your collaboration rooms. As an integrator and dealer for several top manufacturers, we will be hosting systems and collaboration packages from different technologies all in one place. Whether you want to experience Logitech's Rally Bar or Poly's Studio X Series, compare Zoom or Teams, or look into Crestron, we have several conference rooms seamlessly integrated and ready to demo a reliable and easy meeting room experience.
At Profound Technologies, we are your Technology Partner. We are here to represent your best interests and to provide a solution that fits your unique situation. Whether you are looking for conference packages or custom rooms, we can show you our examples and work with you to develop a technology solution for you and your organization.
Ready to take a sneak peek of our Experience Center Tour? See what stands out to you and schedule your demo!
Time for a Tour
Logitech's Conference Packages - Is Rally Bar for You?
When you walk in the room, the first things you will notice are the two conference room tables and setups on the opposite wall. Here we have demos for all three Logitech Rally system types! The smaller conference room type has a single display with options to demo either the Rally Bar or the Rally Bar Mini. The Logitech Tap on the table shows the Zoom interface users are familiar with as well as BYOD options to connect your laptop.
If you are interested in more of a larger conference room or boardroom package, we have a dual display Rally Bar Plus available to demo as well. This solution has a PTZ, auto-tracking camera placed between the two displays with a sound bar beneath each screen. The table includes the Logitech Tap's Zoom touch panel control experience as well as two microphone pods to enhance the audio experience for meeting attendees inside and outside the room. If Logitech's Rally Plus is on the top of your wish list, this is a great playground to test it out!
Share Your Whiteboard with Logitech Scribe
Between our two Logitech conference demos, we feature a Logitech Scribe Whiteboard Camera. This solution is perfect for remote meeting attendees who may not be able to see a whiteboard that the meeting leader or presenter is using. Logitech Scribe makes sharing the whiteboard content easy, as the presenter can sync the whiteboard into the Zoom or Teams meeting with a push of a button. See for yourself how this works with our other Logitech packages!
Poly's Studio X Packages for a Variety of Spaces
The demo station closest to our Experience Center entrance is Poly's Studio X50. This video bar is ideal for medium-sized conference rooms and integrates with either Zoom or Teams. While our demo represents the Microsoft Teams experience by default, we can show Zoom as well. This package is known for its high-quality audio and video and easy use and setup.
If you are looking for something smaller, we have the Studio X30 available to show you on a mobile cart. This is a perfect example for a huddle space: designed for fewer people, yet featuring reliable video conferencing capabilities. Come and enjoy these two Poly demos!
Representing Room Availability - Try Out Our Scheduling Panels
If you look around the room, you will see a couple of options for scheduling panels. We have a couple of iPads with Zoom's interface for scheduling and Crestron's scheduling panel displays Teams. See which one works best for your conference rooms.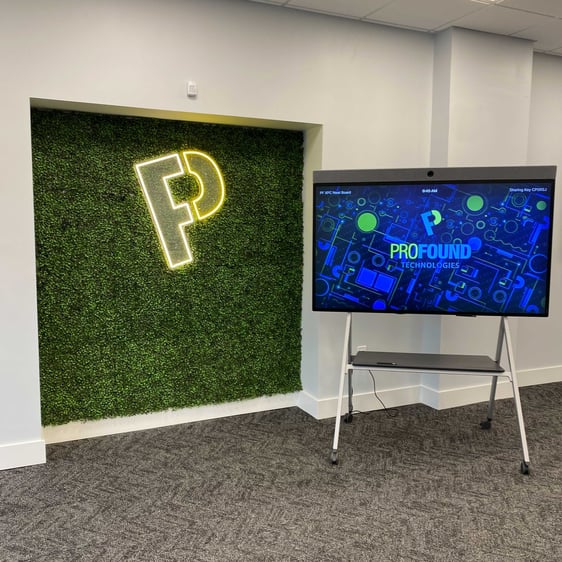 A Sample Huddle Room Experience with the Neat Board
To keep things fun, we have a Neat Board set up with looping Profound Technologies branded animations: a perfect way to see how Zoom can play your signage content. However, despite the momentary signage, Zoom is ready to launch for a demo! You will be able to see how you can launch Zoom from the Neat Board, share using the touch interface, and use the pen to annotate on the whiteboard and share content to others. If you are looking to build out huddle spaces, take a look at this mobile cart to see how it could be used in smaller collaboration rooms.
Zoom's Virtual Receptionist - Ready to be at the Forefront of Your Office!
This kiosk is designed for interactions between customers or guests and remote receptionist(s). Here we demonstrate how a video kiosk can call multiple Zoom accounts at one time, to assure someone responds to the guest who is accessing the Zoom enabled kiosk. Whether this is used as a receptionist, support desk, bank teller, or telehealth representative, users can maintain a personal experience with professionals without needing to meet face to face.
Ready for Your Demo?
If you are interested in any of these products and can make it to our Chester Springs, PA office, we would love to have you drop in for a visit! While we can offer virtual demos for those who can't make the trip, we recommend the in-person experience first. No matter how informative, the virtual demo can't replace visiting the Experience Center yourself. We look forward to seeing you soon!
Schedule Your Experience Center Demo Today