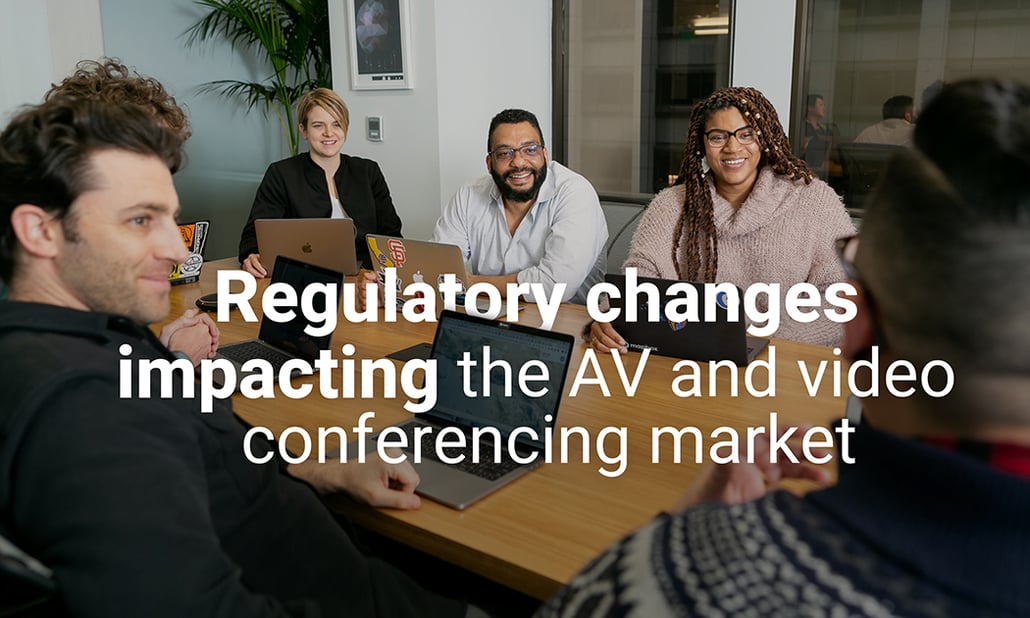 We will delve into the recent regulatory changes that have significantly impacted the AV and video conferencing market. From data privacy and security regulations to licensing requirements and interoperability standards, we will explore how these changes reshape the industry and what they mean for businesses and consumers.
Video Conferencing
The Impact of Regulatory Changes on the Growing Video Conferencing Market
The Covid-19 pandemic created a massive surge in the use of video conferencing technologies and the number of service offerings. There are tens of millions of daily users on Zoom, Teams, WebEx, and other platforms and, in the next 10 years, the size of the market is expected to substantially increase. Governments are struggling to keep up with these changes and are passing various new laws related to the field. While the rules may only take effect in the jurisdiction of the regulating body, they often influence companies' and consumers' behavior at the global level. These regulations tend to focus on a few broad areas.
Data Privacy Regulations: Shaping the Landscape of Video Conferencing Platforms
Data privacy is one of the areas where there has been an increased focus. In 2018, the General Data Protection Regulation (GDPR) came into effect in the European Union, which imposes strict rules on collecting, storing, and using personal data. In February 2021, Microsoft announced that it had achieved compliance with the European Union's General Data Protection Regulation (GDPR) and other data protection requirements for its Teams platform making Microsoft Teams a more attractive option for businesses in the EU that require compliance with these regulations. California also passed the California Consumer Privacy Act (CCPA) in January 2020 to give California residents more control over their personal data. It requires businesses to disclose what personal information they collect and gives consumers the right to request that their data be deleted. Several other states are looking at similar legislation modeled on California's.
Safeguarding AV and Video Conferencing: The Growing Importance of Security Measures
Security is also a major concern as Audio Video and Video Conferencing increasingly reside on local networks and the internet, making them more readily available and vulnerable. In 2019, the National Institute of Standards and Technology (NIST) released a set of guidelines for secure video conferencing, which included recommendations for encryption, authentication, and access control. In November 2020, Zoom settled with the US Federal Trade Commission (FTC) over allegations that it had misled users about its security practices. The settlement requires Zoom to implement a comprehensive security program and to undergo biennial independent assessments of its security practices. Security has often been an afterthought when it comes to the AV field but this settlement has put pressure on other AV and video conferencing providers to improve their security practices as well.
Ensuring Inclusive Communication: Accessibility Regulations in the Video Conferencing Landscape
The COVID-19 pandemic has highlighted the importance of accessible communication for people with disabilities. As a result, many countries have introduced accessibility regulations for video conferencing tools to ensure that people with disabilities can fully participate in virtual meetings. For instance, the Americans with Disabilities Act (ADA) requires that all virtual meetings and conferences are accessible to people with disabilities. The World Wide Web Consortium, the main international standards organization for the Internet, is expected to finalize its draft of the Web Content Accessibility Guidelines 2.2 later this year. Microsoft Teams, Zoom, and other web conferencing software providers which are compliant with version 2.1 will likely update their software to meet the new guidelines once they have been finalized.
Regulatory Changes and the Rise of Video Conferencing in the Remote Work Era
With the increased prevalence of social distancing, many companies turning to video conferencing technologies to enable remote work and communication. As a result, there have been a number of regulatory changes related to COVID-19, such as new rules and guidelines for telehealth services and remote learning. Many countries have introduced regulations around remote work to ensure that employees are protected and that their rights are upheld. For example, in the European Union, the Remote Work Directive was introduced to give employees the right to request remote work and to ensure that remote workers have the same rights and protections as office-based workers. These changes have led to an increased demand for AV and video conferencing technology, as companies and organizations adapt to new ways of working and communicating.
Adapting to Evolving Requirements in the AV and Video Conferencing Market
The AV and video conferencing market is constantly evolving, and companies in this space need to stay up-to-date with the latest regulatory changes and requirements to ensure that they are compliant and able to provide high-quality services to their customers. These regulatory changes have put pressure on AV and video conferencing providers to prioritize data privacy and security in their products and services. This trend is likely to continue as more governments and regulatory bodies around the world introduce similar regulations to protect consumers' personal data.