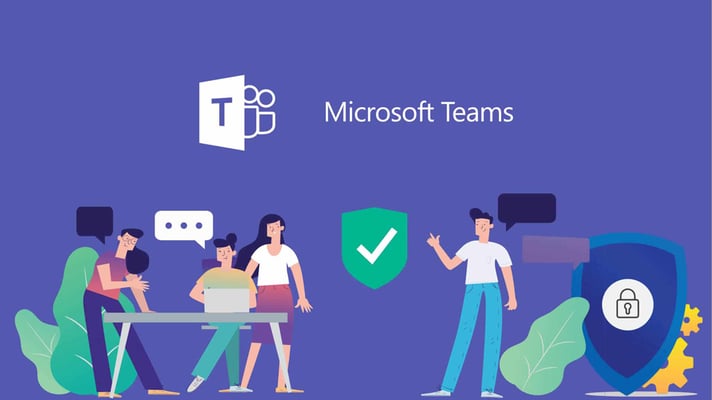 Constant Improvements with Microsoft Teams
Every month, Microsoft Teams pushes out more updates to optimize the productivity and ease of use for their platform. Learn more about what Teams has to offer for video conferencing, management, collaboration and more.
Meetings
As one of the most popular video conferencing platforms in the industry, Teams is always updating the meeting experience. Here are 3 new changes to appreciate:
Automatically View up to 49 Videos - previously the maximum videos on the screen by default was 9 (3x3) but now you can see up to 49 (7x7) without manually selecting the Large Gallery View.

Instant Binary Polls - presenters can launch a one click binary poll to get immediate responses to a yes or no question they ask out loud in their meeting.

Support PSTN Attendees in Meetings to Join Breakout Rooms - now dial-in, dial-out, and call-me participants can join breakout rooms and return to the main room.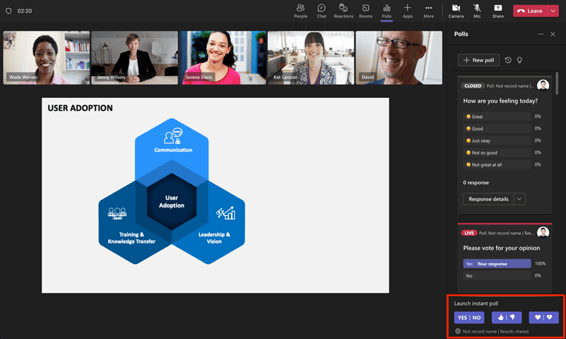 Devices
When it comes to Microsoft Teams Rooms, it's important to have reliable Teams devices. Here are some updates to help with your hybrid workspace.
Companion Device Enhancement - with Proximity Join, the Microsoft Teams Room will video stream only the remote attendees and suppress video streams of the individual in-person participants on the displays.

Licensing Updates - the Common Area Phone (CAP) license is now called the Teams Shared Devices license and it includes the hotdesking experience which offers more shared device functionality.
Collaboration
Teams is known for their chat and collaboration features. Here are a handful of updates for Microsoft users to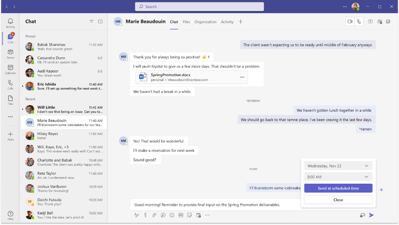 enjoy.
Accept or Block Group Chat Invitation - while there is already a feature to accept or block a one-on-one chat from an unmanaged user, this has been extended to include group chat invitations from unmanaged users.

Schedule Send - just like you can delay email delivery, now you can schedule to send a message to work around your colleague's working hours.

Updates to Search Message - when you click on the chat message search result you will now see the entire message thread, which includes the full context of the recent and historical conversation.

Unread Toggle - now users can turn on this unread toggle to filter by the messages they haven't read yet in their activity feed.
Management
Managing a platform like Microsoft Teams is a big responsibility, so Microsoft provides regular updates for the admin tasks as well. One of the biggest updates for administrators is that they can now manage the entire lifecycle of Surface Hubs as Teams devices from their admin center. This includes remote start, log download, device information, and settings configuration.
Updating Your Microsoft Teams Rooms
While Microsoft Teams will provide updates for the software side of your meeting experience, it comes down to your organization to optimize the hardware and equipment used in your Microsoft Teams Rooms. Upgrading technology and rolling out Microsoft Teams across multiple meeting rooms is a big project, but you don't need to manage it on your own. Profound Technologies is a Microsoft Teams Partner and integrator and has successfully implemented hundreds of Teams Rooms nationally. We offer engineering, installation, and support services to our clients, providing a simple meeting experience through our Teams integration solutions. For more information on our partnership with Teams or to reach out to us regarding a project, read more here.