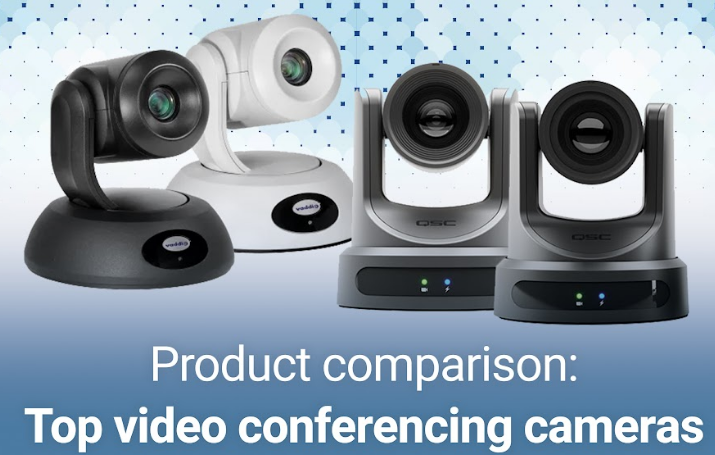 Comparing Top Video Conferencing Cameras for Seamless Remote Collaboration
As remote collaboration becomes increasingly prevalent, selecting the right video conferencing camera is essential for seamless virtual meetings. In this blog post, we plan to highlight some popular features and familiarize ourselves with options to consider: Logitech Rally Plus, Polycom, Yealink, and Crestron. By examining their features, performance, and value, you can make an informed decision and optimize your remote collaboration experience.
Logitech

The Logitech Rally Bar camera features include 4K Ultra HD resolution, advanced optics, AI-powered auto-framing, motorized pan and tilt, and a wide-angle lens for capturing a larger field of view.
The primary characteristic of this camera lies in its remarkable similarity to the Rally camera in terms of quality. However, what sets it apart is its integration into an all-in-one bar that also houses an additional camera. This added camera greatly enhances the camera's auto framing feature, making it incredibly valuable.
The Logitech Rally camera features include 4K Ultra HD video resolution, advanced optics with RightSense™ technology for automatic framing and focus, motorized pan and tilt functionality, exceptional low-light performance, and compatibility with various conferencing platforms.
The ability to have a high-quality camera with a good FOV for the lens, plus the ability to Pan, Tilt and Zoom means that this camera is better suited for larger rooms that have different participants throughout the area
Polycom
Dual camera with 20-megapixel 4K sensors
Poly DirectorAI smart camera technology
Motorized, integrated electronic privacy shutter
Includes Poly Lens management software
Connects to Microsoft Teams Rooms on Windows, Zoom Rooms on Windows and Poly G7500
The camera incorporates a secondary built-in camera that serves multiple purposes, including auto framing and various dual camera functionalities.
Certified for both Zoom and Microsoft Teams
High-Quality Video

The Yealink Poly Studio P15 camera offers high-definition video capabilities, making it suitable for various room types. Whether it's a small huddle room, a medium-sized conference room, or a large boardroom, the P15 camera delivers clear and crisp video quality to enhance communication and collaboration.

Pan, Tilt, and Zoom Functionality

The P15 camera supports pan, tilt, and zoom functionalities, enabling users to adjust the camera's view remotely. This flexibility allows users to focus on specific participants, objects, or areas within the room, providing a more dynamic and interactive meeting experience.

Auto Framing

The camera features auto-framing technology, which automatically adjusts the camera's view to frame and focus on active participants. This intelligent feature ensures that individuals speaking or presenting are prominently displayed, enhancing engagement and visual communication during meetings.

Intelligent Noise Cancellation

The P15 camera is equipped with intelligent noise cancellation technology, which helps reduce background noise and improve audio quality. This feature is beneficial in various room types, ensuring that participants' voices are clear and easily heard without distractions.
Compact and Sleek Design

The camera has a compact and sleek design, making it visually appealing and suitable for different room aesthetics. Its unobtrusive presence allows it to blend seamlessly into the room environment without drawing unnecessary attention.
Collaboration Features

The P15 camera integrates seamlessly with collaboration tools like content sharing and annotation features. This enables participants to share and interact with documents, presentations, and other visual materials, fostering effective collaboration within different room types.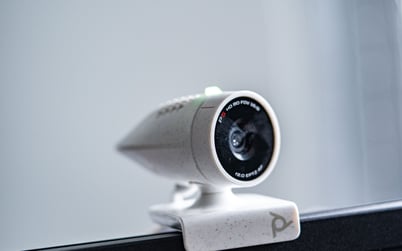 Compact and Portable

The Yealink Poly Studio P5 camera is a compact and portable device, making it suitable for various room types. It can be easily carried and set up in different spaces, such as small huddle rooms, home offices, and personal workstations.

High-Quality Video

Despite its small size, the P5 camera delivers high-quality video with clear visuals and vibrant colors. It ensures that participants in different room types can be seen in detail, enhancing the overall meeting experience.

Plug-and-Play Convenience

The P5 camera offers plug-and-play convenience, requiring minimal setup and configuration. It can be quickly connected to a computer or laptop via USB, making it ideal for different room types where simplicity and ease of use are essential.

Adjustable Privacy Shutter

The P5 camera features an adjustable privacy shutter that can be easily opened or closed. This ensures privacy when the camera is not in use and adds versatility for deployment in personal spaces or rooms where privacy is a concern.

Flexible Mounting Options

The P5 camera provides flexible mounting options, including a clip and a tripod mount. This allows it to be conveniently placed on top of a laptop screen, monitor, or tripod, accommodating different room types and setups.

Integrated Microphone

The P5 camera has an integrated microphone, eliminating the need for additional audio devices in smaller room types. It captures clear audio, enhancing communication during video conferences and eliminating the need for separate microphones.

Compatibility

The P5 camera is compatible with various video conferencing platforms and applications, ensuring seamless integration in different room types. It works well with popular software such as Zoom, Microsoft Teams, and Cisco Webex.
Versatile Use Cases

The P5 camera is suitable for a wide range of use cases, including video conferencing, online meetings, virtual classrooms, and remote interviews. It adapts to different room types, enabling effective communication and collaboration in various scenarios.
Yealink
High-Quality Video
The Yealink UVC86 camera delivers high-quality video with exceptional clarity and resolution, making it well-suited for conference room types. It captures detailed visuals, ensuring participants can be seen clearly, even in larger meeting spaces.

Wide Field of View
The UVC86 camera offers a wide field of view, allowing it to cover a broad area within the conference room. This feature ensures that all participants are visible, fostering inclusive and collaborative meetings in various conference room types.

Flexible Mounting Options
The UVC86 camera provides flexible mounting options, such as wall mount and tripod mount. This versatility allows for optimal placement and positioning within conference rooms, catering to different room layouts and configurations.


Intelligent Framing
The UVC40 camera supports intelligent framing capabilities, automatically adjusting the camera's view to frame and focus on active participants. This feature ensures that speakers and presenters are prominently displayed, enhancing engagement and visual communication in conference room settings.

Easy Integration and Control
The UVC40 camera seamlessly integrates with various video conferencing platforms and systems, making it easy to use in conference room setups. It can be controlled remotely, allowing for convenient adjustments to camera settings and view during meetings.


Crestron
Intelligent AutoFramer
The Crestron IV‑CAMFR‑12‑SLVR‑1B1 is a high-quality intelligent PTZ IP camera that automatically frames all meeting participants in the room. The IV‑CAMFR‑12‑SLVR‑1B is ideal for small to medium-sized conference rooms.


Medium Tabletop Kit
The UC-M50-T Crestron Flex tabletop conferencing system provides a medium-room video conference solution for use with Microsoft Teams® Rooms software. There is Zoom capable version too. It supports single or dual video displays1 (not included) and features a Crestron Flex tabletop conference device, collaboration camera, UC bracket assembly, power supply, and cables.



Crestron UC Video Conference Smart Soundbar & Camera
The Crestron UC-SB1-Cam is a soundbar comprising a high‑performance conferencing speakerphone and camera in one front‑of‑room device. Installs cleanly beneath the room display, and interfaces with any computer via USB. This device can work standalone with a simple table or wall plate to access HDMI and USB, or this can be combined with a touch panel to provide Native Teams or Zoom experience
Choosing the Ideal Video Conferencing Camera for Enhanced Remote Collaboration
Selecting the right video conferencing camera is crucial for successful remote collaboration. Logitech Rally Plus offers cutting-edge features and customizable audio options, while Polycom excels in audio quality and compatibility. Yealink provides smart features for enhanced collaboration, and Crestron offers superior video clarity and precise camera control. Consider your specific requirements, budget, and desired features when comparing these options. Evaluate their strengths and weaknesses to find the ideal video conferencing camera that will elevate your remote collaboration experience.
Schedule a meeting now to speak with an expert on Microsoft Teams or Zoom!