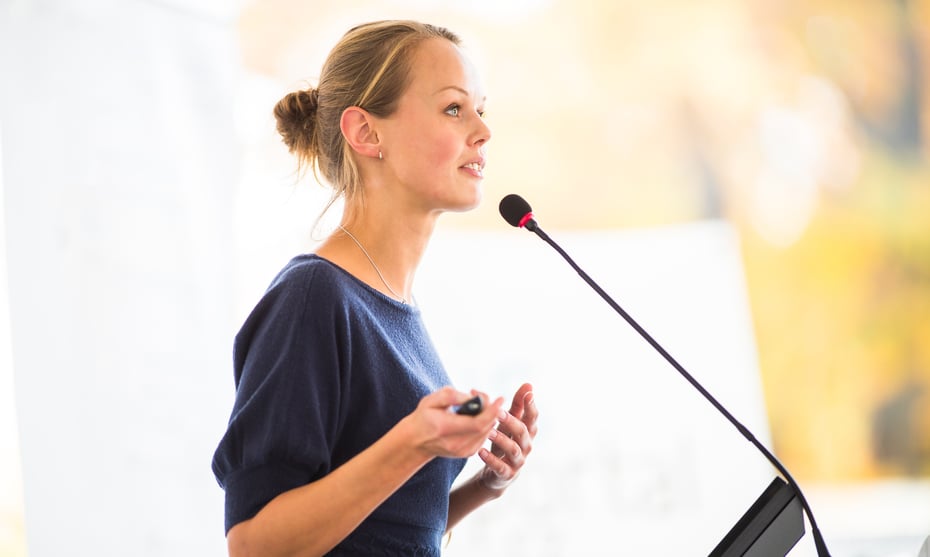 Choosing the Right Microphone for Your Auditorium
Creating compelling sound in your auditorium or lecture hall starts with selecting the right microphone. As your source, a microphone is essential when it comes to capturing voices and other key audio onstage. There are several different types of commercial microphones out there – so how can you choose the best option for your space? Read on to learn about the most common and popular microphones, and where they fit best.
1. Lectern Microphone
As the name would suggest, a lectern mic (or gooseneck mic) will work best when you have a speaker standing at a podium. Many lectern microphones, like the Shure Microflex MX418, feature a slim design, helping keep the focus on your presenter instead of the equipment. The coverage pattern allows a lectern mic to capture audio in front of and above the podium, without picking up sound from the audience or elsewhere onstage. This style of microphone should be your top pick if you plan to use a podium for presentations.
2. Fixed Position Hanging or Floor Microphone
For many stage productions, a fixed position microphone on the floor, also called a boundary mic, will provide clear vocals and a natural sound. Supercardioid or half-cardioid polar patterns pick up participants onstage while rejecting sound from the rear. Although stage floor microphones (like the AKG PCC160) are designed to reject vibrations from the floor, they capture footsteps as our ears would hear them. Similar to a lectern mic, floor microphones are engineered to account for sound reflecting off of the floor - you won't get a hollow sound.
Microphones built to hang will achieve a similar effect: targeting a group of people on stage, with little fuss and minimal visual intrusion. Both kinds of microphones do best when accounting for roughly 15 to 20 feet of stage width.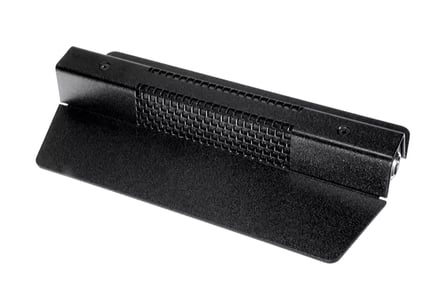 3. Handheld Microphone
If your presenter will move around the stage, or perhaps interview guests, a handheld microphone is a good fit. While this kind of microphone can rest on a stand, the speaker can roam with it, toggle it on and off, and hand it to another person to use. Handheld mics typically use a bi-cardioid pattern, capturing whatever the mic is pointed at, with minimal background noise. Perhaps most importantly, a "handheld mic has a more powerful sound and allows the presenter to vary the loudness and tone for extra emphasis by moving the microphone closer or farther away," according to Shure. While your speaker will have flexibility, they will need to carry the mic, and handheld mics are less discrete than lectern mics or some fixed position microphones.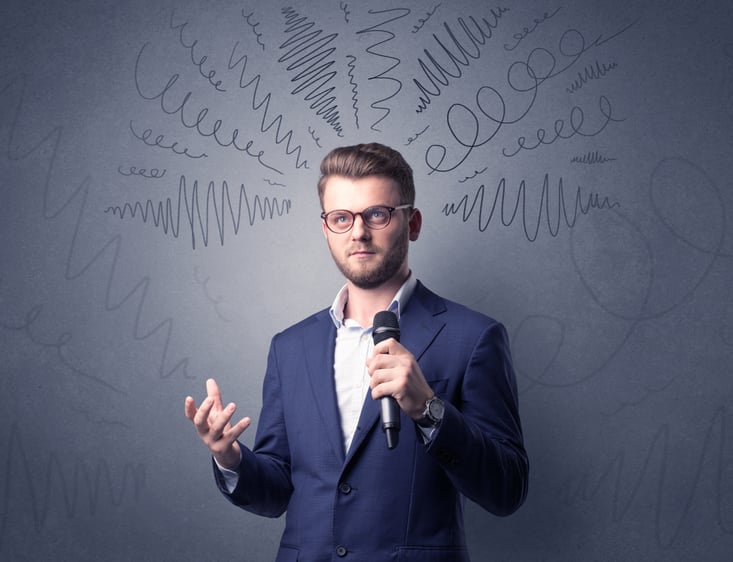 4. Lavalier Microphone
A lavalier microphone is worn by the speaker, usually on or near the lapel. Presenters can be dynamic, moving freely and using their hands. Wireless capabilities can grant a lavalier (or "lav" for short) user total freedom on the stage. The drawbacks here are the need to set up a separate microphone and body pack on each user. Lavalier microphones are popular in stage or TV productions.
Conclusion
This guide should serve as a starting point as you consider which microphones are the best for your auditorium. With that said, every space is unique, and a professional audio installer like Profound Technologies can be essential in determining the best design for your space. Don't hesitate to reach out to us or set up a meeting to discuss your auditorium project.