InfoComm 2022
The AV industry was buzzing as InfoComm was hosted again in Las Vegas, June 8-10. While it wasn't a record-breaking group of attendees, it felt busier than ever as people have craved gathering together again. Almost 20,000 attendees from 110 countries and all 50 states joined 522 exhibitors on the trade show floor to demo and showcase innovative AV solutions. "InfoComm is the only place in North America where the entire ecosystem of the pro-AV industry gathers—from manufacturers to distributors to integrators to end users," says David Labuskes, AVIXA's CTS, CAE, RCDD and CEO. "This week we saw thousands of AV professionals make the trip to Las Vegas to learn from each other and experience innovative technology in person."
Here are some of the highlights from this year's InfoComm trade show. We are excited to see how these products impact the industry over this next year!
Crestron
Like in previous years, Crestron was still one of the biggest booths at InfoComm. Their focus in this new hybrid work era was achieving an equitable work space through Sightline Room Experience. Video conferencing between remote workers and in-office attendees can lead to miscommunication and produce challenges in connecting with each other. The Sightline Room Experience is a meeting room solution with multiple displays and cameras on all four walls of the room. Crestron recently acquired 1 Beyond and through their innovative video solutions and artificial intelligence, speakers are automatically tracked and framed.
Sightline integrates with Crestron Flex and can be scaled for various room sizes. Through this new meeting room experience, remote attendees can have more visibility into other attendees in the conference room. The Crestron booth's solutions and high-tech were a big hit for the week, and we can't wait to see what else they bring to the table for commercial AV.
Logitech
Logitech's booth highlighted their Rally Bar meeting room package as well as their virtual whiteboard, Logitech Scribe. Rally Bar offers an all-in-one conferencing experience with impressive visuals, smart camera tracking, and high-quality audio. Their Logitech Scribe simplifies whiteboarding for hybrid meetings since this device clearly broadcasts whiteboard content into the Zoom or Teams meeting.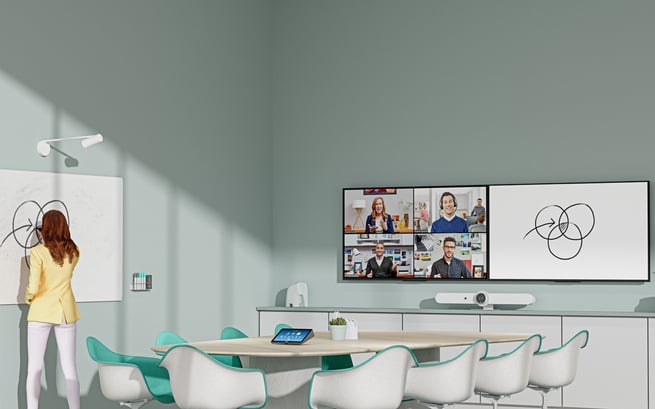 As Logitech prioritizes equality and adaptability in this new hybrid work environment, they also have new products for personal use and ideal work from home setups. The Logi Dock is called their "Work-From-Home Superhero" to simplify the home office, declutter desktops, easily and reliably join meetings, and more. Throw in their wireless headsets and earbuds, and Logitech can provide you with everything you need for a productive and simple to use home workspace.
Poly
As a seasoned player in the video conferencing sector, Poly likes to bring new solutions to the table at InfoComm. Their R30 video bar is designed for small and medium-sized rooms (4-5 people) and is compatible with USB. The high-quality camera and audio are perfect for picking up everyone involved, and its design is for flexible meeting and open work spaces. Poly also introduced People Framing Mode as the newest mode for their Director AI Camera Suite. Through face recognition technology, they can produce multiple video streams for each person in the room to show separately in a gallery view. This can be integrated with Zoom, Teams, or other video conferencing platforms.
Neat
Neat's booth of collaboration technology also stood out at InfoComm this year. The Neat Bar has advanced video and audio integrated into the bar, with no need for an extra PC. Their stunning Neat Board is a mobile conferencing solution with whiteboard and content sharing enabled as well. Their Neat Frame was also a popular showcase, with its unique shape and high-quality visuals. Its voice and face recognition allows for an incredibly personal meeting experience for your workspace, at home or in the office.
Video Walls and Digital Signage
InfoComm was the place to be for demos and education surrounding digital signage this year. They brought back D=Sign Conference, which used sessions and workshops to explore solutions and innovations in the world of digital signage. InfoComm also had over 80 exhibitors showcasing digital signage, not to mention a Digital Signage Pavilion and a Digital Signage Reception as well. The topics and featured products ranged from content creation software, LED displays, touchscreens and interactive displays, and the newest features in digital signage.
Video Walls are always a stunning and entertaining component of InfoComm, and several exhibitors brought their latest technology and did not disappoint. The Wall has been popular for years, but now Samsung could showcase their newest versions. The Wall All-In-One comes in three different models and prioritizes a more convenient installation process, and The Wall IWB is the slimmest ever pixel pitch while still delivering an immersive, high-quality viewing experience.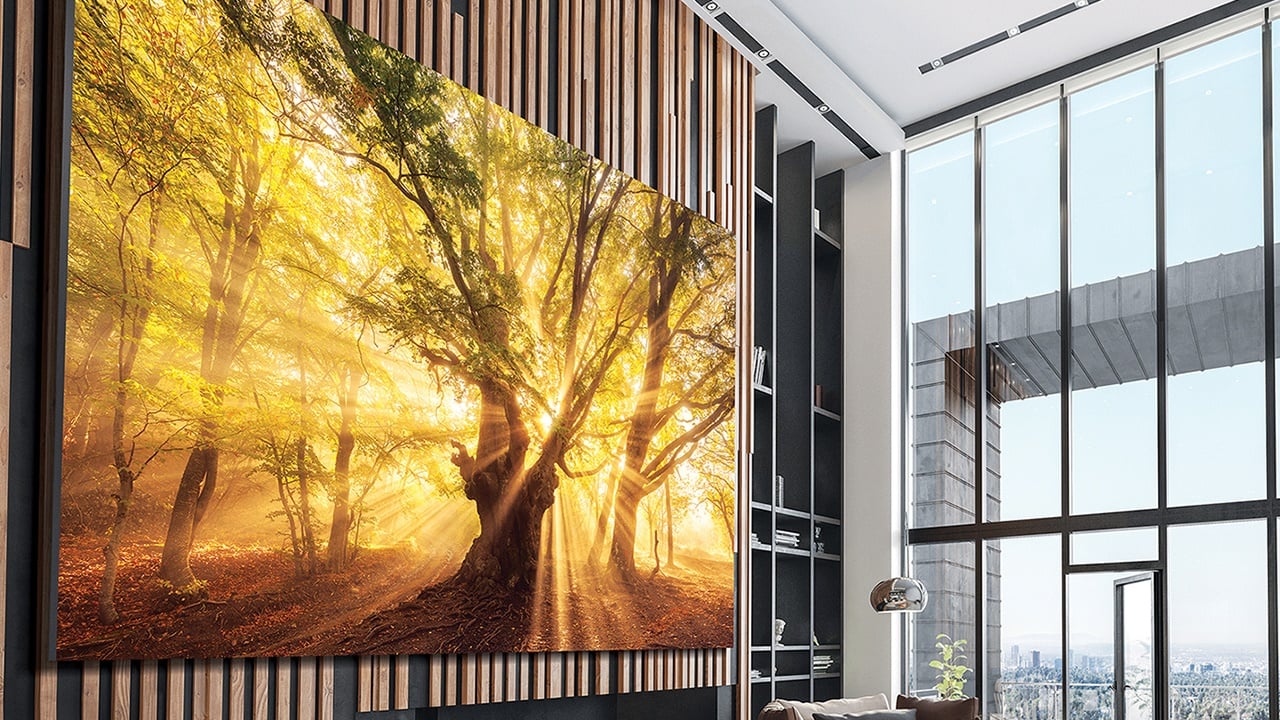 Overcoming the Supply Chain Issues
Through the many impressive showcases at InfoComm, everyone was very straightforward about the current supply chain issues. Educational sessions discussed it and exhibitors and attendees are living it! AV experts at InfoComm noted the issue and how integrators are overcoming it. Haley Kelin, Director of marketing and communications at PSNI Global Alliance said, "The ones who are doing well are innovating, and they are coming up with new solutions to combat supply chain issues. The true integrators are coming up with solutions to keep us going. It was really cool to see when, for a while, we didn't have any foreseeable solutions."
Taking InfoComm Back to Your Work
Whether or not you attended InfoComm in Las Vegas this year, there were featured products and solutions that can improve your work—in the office or at home. Profound Technologies is a certified integrator for all the manufacturers mentioned above, and we are helping end users implement these solutions. While we are impacted by the heavy weight of the supply chain collapse just as everyone else, we are diligently working to provide products for our customers as quickly as we are able. Reach out with any AV needs, from meeting rooms to video walls, and we will set you up with a free consultation!