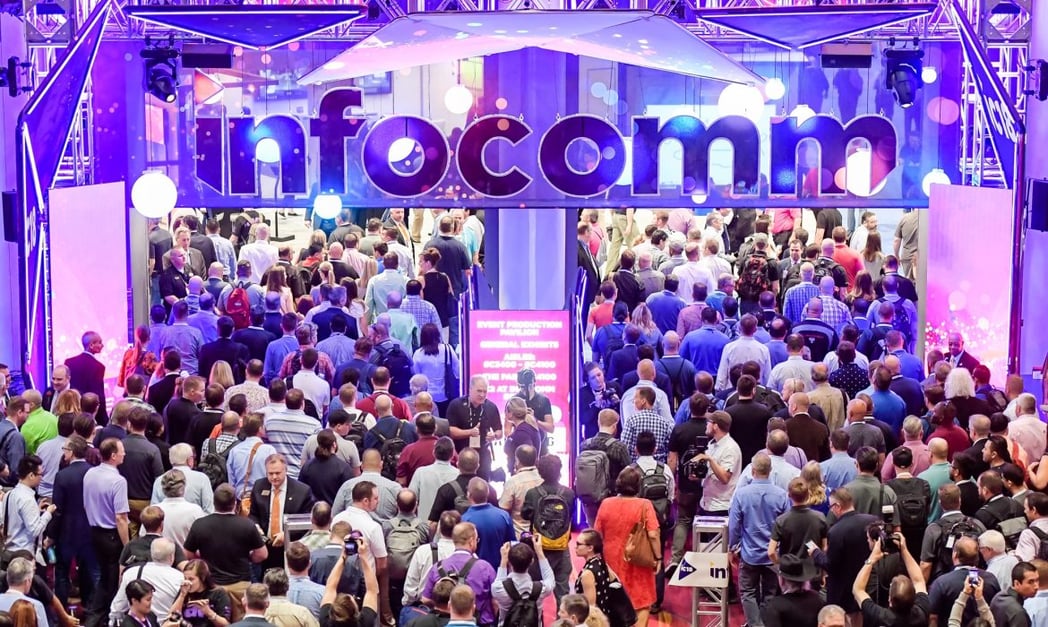 Let's Recap
This year, InfoComm was hosted in Orlando, Florida from June 10-16. With almost 30,000 verified attendees, a 49% increase on the 19,681 verified attendees seen at last year's InfoComm in Las Vegas. Also, 700 exhibitors joined in on the pinnacle event in the world of audiovisual technology. From cutting-edge displays to immersive experiences, this blog takes you on a captivating journey through the extraordinary offerings that left attendees in awe. Brace yourself for a glimpse into the future as we explore the groundbreaking advancements that shaped the AV landscape.
Captivating Experiences
Yealink SmartVision 60 360-Degree Four-Stream Teams-Certified Smart Camera
Yealink's SmartVision 60 360-Degree Four-Stream Teams-Certified Smart Camera stole the spotlight with its remarkable capabilities. Coming in August 2023, this cutting-edge camera demonstrated its prowess in providing immersive and collaborative video conferencing experiences. Equipped with 360-degree panoramic views and support for up to four concurrent video streams, it allowed participants to enjoy a dynamic and all-encompassing meeting environment. The Teams certification ensured seamless integration with Microsoft Teams, enabling effortless communication and collaboration. Yealink's SmartVision 60 showcased the future of smart cameras, promising to revolutionize video conferencing and enhance virtual collaboration like never before.
With its advanced AI-driven features, such as intelligent speaker tracking and automatic framing, the SmartVision 60 brought a new level of convenience and professionalism to video conferences. Its high-resolution imagery and exceptional audio quality transported participants into a virtual realm where communication barriers were broken, fostering enhanced teamwork and productivity. Prepare to embrace the future of video conferencing with Yealink's SmartVision 60, as it redefines the way we connect and collaborate in the digital age.
Crestron Hospitality Solutions for Smart Hotel Integrations
With Crestron Hospitality Solutions, guests could effortlessly control room settings such as lighting, temperature, and entertainment through intuitive touchscreens or mobile apps. The integration with popular voice assistants provided an additional layer of convenience, allowing guests to simply use their voice to command various aspects of their room.
Crestron's smart hotel integrations extended beyond guest rooms. The solutions also encompassed smart common areas, conference rooms, and event spaces. Integrated audiovisual systems, advanced room scheduling capabilities, and seamless connectivity created a streamlined and immersive experience for both guests and staff.
With a focus on security and energy efficiency, Crestron Hospitality Solutions offered enhanced guest privacy, robust access controls, and energy management features. Hotel management could effortlessly monitor and control various systems, ensuring optimal guest comfort while maximizing operational efficiency.
By showcasing their cutting-edge solutions at InfoComm 2023, Crestron demonstrated their commitment to revolutionizing the hospitality industry. The seamless integration of technology into hotel environments opened doors to unparalleled guest experiences, setting a new standard for smart hotel integrations and paving the way for a future where comfort, convenience, and connectivity seamlessly coexist.
Logitech Adds Compact Rally Bar Huddle All-in-One Video Bar
Designed specifically for small meeting rooms and huddle spaces, the Logitech Rally Bar Huddle packed a powerful punch in a compact form factor. With its integrated camera, speakers, and microphones, it offered a comprehensive video conferencing experience without the need for complex setups or multiple devices. Equipped with advanced optics, the Rally Bar Huddle ensured crystal-clear video quality, capturing every detail with precision. The high-quality speakers delivered rich, immersive audio, while the beamforming microphones captured voices from every corner of the room, ensuring clear and natural communication.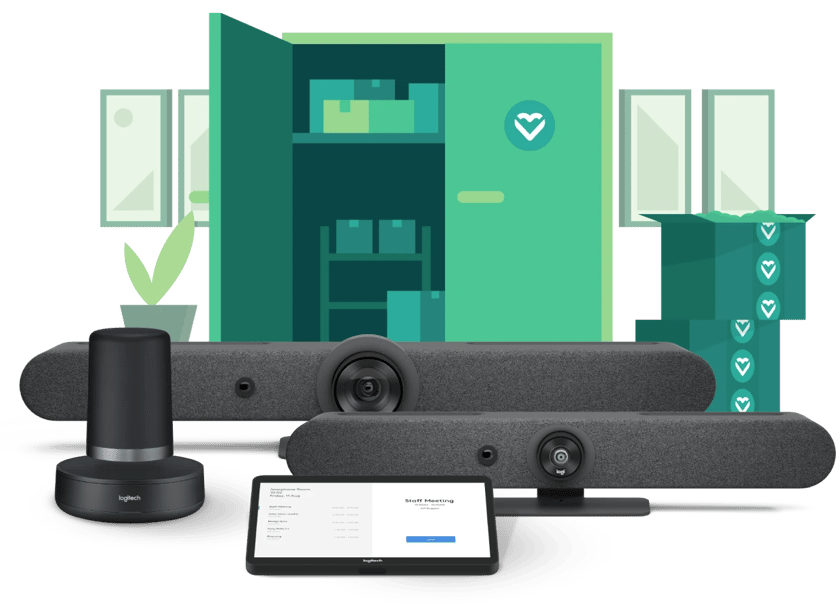 Logitech's Rally Bar Huddle also boasted intelligent features that enhanced the meeting experience. With AI-powered technologies like automatic framing and voice detection, the device intelligently focused on active speakers and adjusted camera framing, making remote collaboration effortless and engaging. Setting up and managing the Rally Bar Huddle was a breeze, thanks to Logitech's user-friendly software and seamless integration with popular video conferencing platforms. IT teams could easily deploy and manage multiple devices, ensuring a hassle-free experience for both users and administrators.
The compact design of the Logitech Rally Bar Huddle blended seamlessly into any room, without compromising on performance or functionality. Its all-in-one nature made it an ideal choice for organizations looking to optimize their small meeting spaces and huddle rooms with a reliable and feature-packed video conferencing solution. With the introduction of the Rally Bar Huddle All-in-One Video Bar, Logitech reaffirmed its commitment to delivering innovative and user-centric solutions that redefine the way we collaborate. Whether it's for small teams, remote workers, or decentralized offices, the Rally Bar Huddle provided a powerful tool for seamless communication and collaboration in the modern workplace.
Planar Debuts UltraRes L Series
The Planar UltraRes L Series showcases a cutting-edge LED display that integrates the features of the Planar UltraRes Series with fine-pixel pitch LED technology. This all-in-one solution boasts a 20-point IR touch technology, onboard processing, an ultra-slim bezel, and a remarkable 136-inch Full HD resolution. Additionally, it offers multiple inputs to facilitate simultaneous viewing of up to four content sources. With its front service installation and simplified maintenance, the Planar UltraRes L Series can be swiftly assembled by a team of two individuals and powered using a single 110V cable.
Samsung LED All-in-One (IAC Model)
Boasting a massive 130-inch full HD LED screen and a sleek 16:9 aspect ratio, this display redefines large-scale visual communication. The hassle-free installation is made possible with its pre-assembled frame kit, allowing users to effortlessly hang it on any wall. With its slim 56mm design (expandable up to 64mm with the Slim Fit Wall Mount), the Wall All-in-One LED seamlessly blends into any environment, adding a touch of elegance and sophistication. The screen's 1,000 nits of peak brightness and impressive 3,840 Hz refresh rate deliver stunning video quality, ensuring every detail is vivid and captivating.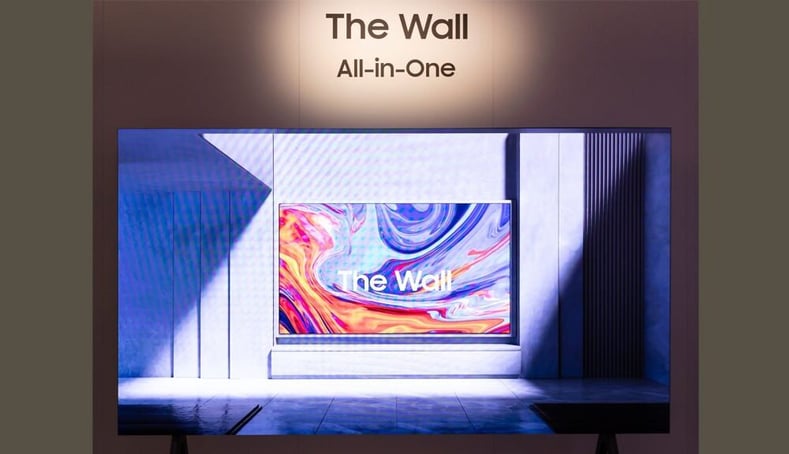 The LED All-in-One is not just a display; it's a complete solution for businesses. The built-in Samsung S-Box enables integrated media play, providing seamless playback of media content. Paired with Microsoft 365 integration, this display offers powerful commercial tools that maximize productivity and collaboration in business environments.
Step into a new era of visual excellence with the Samsung LED All-in-One (IAC Model). Whether it's for corporate presentations, educational institutions, or entertainment venues, this display sets new standards for immersive and impactful visuals. Explore the limitless possibilities and elevate your visual communication to new heights.
Until Next Year!
InfoComm 2023 left attendees inspired, amazed, and eager to embrace the future of AV technology. The event was a testament to the boundless potential of innovation and its transformative impact on our lives. From breathtaking displays to immersive experiences, the offerings at InfoComm 2023 have set the stage for a new era of audiovisual technology. As we reflect on this extraordinary event, we eagerly anticipate the future advancements that will continue to reshape the AV landscape, pushing the boundaries of what we once thought was possible.
Check out the InfoComm website for additional information!