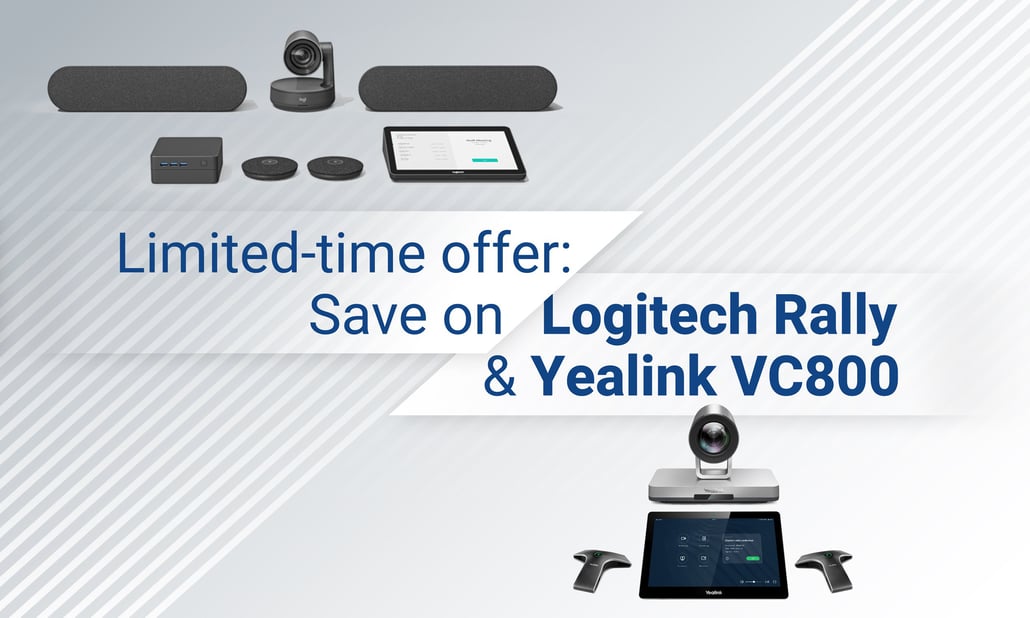 Limited-Time Offers on Logitech Rally and Yealink VC800
In the rapidly evolving landscape of modern communication and collaboration tools, video conferencing systems have become indispensable for businesses, educational institutions, and individuals alike. Recognizing the crucial role these systems play, two industry giants, Logitech and Yealink, are offering a limited-time opportunity that's bound to catch the attention of those seeking high-quality video conferencing solutions without breaking the bank. Let's dive into the details of the enticing limited-time offer on Logitech Rally and Yealink VC800.


The Power of Seamless Communication
In today's interconnected world, clear and effective communication is paramount. Video conferencing systems have proven to be a game-changer, enabling people to communicate face-to-face regardless of geographical distances. The Logitech Rally and Yealink VC800 are two leading contenders in the video conferencing arena, and they are now more accessible than ever before.
At Profound Technologies, we excel in seamlessly integrating Zoom and Microsoft Teams into meeting rooms of all types, offering specialized Logitech packages for conference rooms, huddle rooms, training rooms, multi-purpose rooms, and more. As an elite authorized dealer, we take the reins in handling your room systems, ensuring that your preferred video conferencing solution is expertly installed. Our focus is on delivering an effortlessly easy-to-use meeting room experience that empowers collaboration and communication.
When it comes to cutting-edge audio and video peripherals, Logitech stands out as a leader. Among its exceptional lineup, the Logitech Rally shines as an exceptional choice for taking your meetings to the next level. Whether you're outfitting a small huddle room or a sprawling conference space, the Rally's advanced technology and user-friendly features are ready to make a difference. The Rally doesn't just meet the mark; it sets a new standard for audio and video quality. Equipped with a remarkable 4K Ultra HD camera featuring motorized pan and tilt capabilities, the Rally ensures that every individual in the room is captured with stunning clarity and precision.
Moreover, the Rally's modular design sets it apart as a highly customizable solution. This flexibility enables you to tailor the system to your specific requirements. Need more audio coverage? The Rally's optional add-ons, such as speaker expansion modules and additional microphones, seamlessly adapt to the environment, whether it's an intimate meeting or an extensive presentation. Profound Technologies, as an authorized dealer, can guide you through these customization options, ensuring that your Logitech Rally suits your unique needs and maximizes your meeting room's potential.
With Profound Technologies' expertise and the incredible features of the Logitech Rally, you're not just upgrading your meetings; you're revolutionizing your communication experience. Trust us to bring this exceptional technology to life within your workspace, creating an environment where collaboration thrives and communication knows no bounds.
Profound Technologies is your go-to expert for both Logitech and Yealink's premier conferencing solutions within the Zoom and Microsoft Teams environments. Our specialization lies in seamlessly integrating Yealink's room packages into various spaces, including conference rooms, huddle rooms, and training rooms. As an esteemed authorized dealer, we take the reins in installing your chosen Yealink system, ensuring a streamlined experience in your meeting room.
When it comes to trusted names in the video conferencing realm, Yealink takes center stage, and the VC800 model stands as a testament to their unwavering commitment to innovation and excellence. The VC800 system is strategically crafted for larger meeting spaces, presenting a powerful solution that redefines the dynamics of collaboration. Bringing together high-definition video and crystal-clear audio, the VC800 ensures that every participant's voice is not just heard but truly understood, even in expansive meeting rooms.

One of the most noteworthy attributes of the VC800 is its remarkable compatibility with a diverse array of communication platforms. This adaptability makes it an incredibly versatile choice, catering seamlessly to businesses and organizations with varying technology ecosystems. The VC800's support for dual displays and content sharing further enhances its prowess, fostering dynamic collaboration and enabling the smooth exchange of information.
With Profound Technologies' expertise in Yealink's conferencing solutions and our dedication to elevating your meeting experiences, you're not just investing in technology; you're investing in a transformative communication journey. Trust us to harness the capabilities of the Yealink VC800, creating an environment where collaboration knows no bounds, and your communication objectives are not just met but exceeded.
Limited-Time Offer Details
Now, here's the exciting part: both Logitech and Yealink are running a limited-time offer that allows you to save significantly on these exceptional video conferencing solutions. This presents a golden opportunity for businesses looking to upgrade their communication infrastructure or individuals seeking to elevate their remote communication experience.
How to Make the Most of the Offer
To take advantage of this exclusive offer, all you need to do is visit the official websites of Logitech and Yealink or reach out to authorized dealers. Act quickly, as these limited-time deals are bound to attract attention from a wide range of customers.
Seize the Opportunity with Logitech Rally and Yealink VC800
In a world that demands seamless communication and collaboration, investing in high-quality video conferencing solutions is a strategic move for any business or individual. The limited-time offer on Logitech Rally and Yealink VC800 provides an opportunity to access top-tier technology at a fraction of the regular price. Whether you're looking to transform your conference room into a hub of productivity or enhance your remote work setup, this offer is worth considering. Don't miss out on the chance to elevate your communication game with these exceptional video conferencing systems!
Schedule a meeting now to meet with an expert on Microsoft Teams or Zoom!