Creating the Right Conference Room
Meeting room technology today is meant to be reliable, easy to use, and blend right into the design of the room. It's more than just a hodgepodge of devices and wires across the table. Through changes in how businesses communicate, every office space will need video conferencing capabilities from the camera to the right application.
Logitech has come out with a product package with the camera, speakers, and video conferencing platform all in one. The Rally Bar (and its variants Rally Plus and Rally Mini) takes an orchestra of high-end devices and brings them all together in a powerful, all-in-one video conferencing experience. Let's take a look at the included equipment, the unique features for the different video conferencing platforms, and the different-sized options.
The Equipment
Camera
Right in the middle of the Rally Bar is the camera that provides cinema-quality video and outstanding optical accuracy. The automated PTZ feature combined with AI insights keeps the camera focused on the action in the room. The AI Viewfinder next to the camera lens provides a unique scene awareness to allow for auto-framing, people counting, and premium camera control. The color and clarity alone would optimize the meeting experience,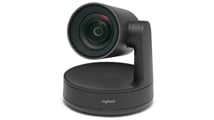 but by blending this with other insights and features, it transforms the video conferencing capabilities.
Speakers
The high performance audio delivers quality sound that can fill the room and enhance every voice. The bar is made up of the speaker drivers and an anti-vibration suspension system. With full duplex capabilities, meeting participants can hear and speak at the same time without confusion.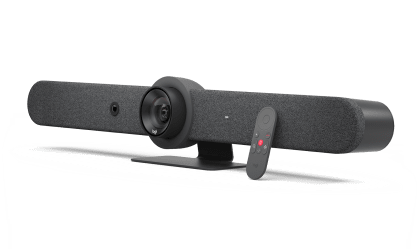 Mics
Included in the Rally bar is adaptive beam forming mics that can focus on the speaker with impressive accuracy. RightSound, their AI-based technology, manages the various loud and soft voices while suppressing background noise, improving over time. For larger rooms and more speakers, Logitech also has Rally Mic Pods to add more mic pickup throughout the room.

And More...
What else is needed in your conference room? Let's not forget a touch panel to help you navigate the room and active meetings. Logitech Tap is often used with the Rally Rooms to show the meeting status, manage screen share, and launch meetings.
Before we move on to conferencing, it's important to note that in setup you can have USB Mode which connects your Logitech system with any PC or Mac. However, you can also run the video conferencing application of your choice right on the device without needing a computer. And of course, you will need displays and can have the flexibility to mount your Rally Bar above, below, or between your room's screens.

The Video Conferencing
Zoom
If Zoom is your application of choice, your Logitech system can be preconfigured with Zoom in mind. No matter what size or shape Zoom Room you are building, you can find a preconfigured Logitech package to fit your need. You also can use Zoom's regular user interface right from the touch panel instead. Moving from Zoom meetings at home to Zoom Rooms in the workplace will be a challenge for some, so provide a standard and familiar experience to lighten the transition.
Microsoft Teams
A native Teams experience might be what you and your organization want in all of your conference rooms. Logitech also has preconfigured solutions to integrate Microsoft Teams into rooms of all sizes. With the Rally Bar and other Logitech conferencing products, you can recreate the Teams experience meeting attendees knew before, except now with high-quality technology and insights.
Other Options
If your business doesn't use Teams or Zoom, there are still other video conferencing options available to utilize in your Logitech Rally rooms. Whether Pepip, GoTo, Google Meets, or Ring Central, there is a touch interface and preconfigured rooms ready to be implemented!
The Size

Rally Mini
This all-in-one video bar brings the high quality of the Rally Bar into the smaller meeting rooms and huddle spaces. The good news is that your video conferencing options and many of the equipment features are still included in the Rally Mini. The main differences include less mounting options, lower quality camera with less PTZ capability, and smaller speakers with limited Mic Pods. However, this Rally Mini is just the size and bandwidth you need for your smaller rooms. AND you can even pick more specific small room types to find the best Zoom Room or Teams Room preconfigured solutions.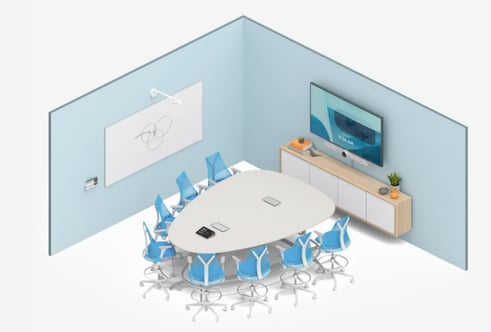 Rally Bar
The standard Rally Bar has been the emphasis of this article so far: best in class camera, quality speaker microphone, ability to add 3 Mic Pods, the ease of appliance mode for video conferencing applications, etc. It is the perfect size for rooms with anywhere from 6-12 seats and around an 18-foot room size. Similar to the Rally Mini, you can pick from a few preconfigured room types and standards to ensure you have the best room solution for your specific need.
Rally Plus
When it comes to large conference rooms, boardrooms, and training rooms, having only the Rally Bar won't cut it! The Rally Plus solution offers an ultra-HD imaging system, two large speakers, and includes two Rally Mic Pods. Even with a crowded, large room, Logitech's Rally Plus allows for the audio and video brilliance to capture and project each face and voice accurately. You also have flexible mounting options, so you can have the camera between your displays with the screens under it, the three devices propped below your screens, or whatever setup works best with your room!

Rely on an Expert
With all of these options and features, it takes a Logitech expert to guide the purchasing, setup, and support process. Not only is Profound Technologies a certified Logitech dealer and integrator, but we are experts in Zoom and Teams integration as well. See our work with Logitech, and feel free to reach out for pricing, more information, or (even better) to get started on a project!