Streamlining Competitive Pricing and Cost Efficiency for SLED Projects in Pennsylvania
When state and local governments or educational institutions (SLED entities) start a project, they are required to seek competitive pricing. The Commonwealth of Pennsylvania operates a cooperative purchasing program called COSTARs to help these organizations efficiently request information, quotes, and award bids to participate companies.
More than 9,000 SLED organizations are enrolled in COSTARs. When they submit a Request for Information (RFI) or a Request for Proposal, companies in the applicable industry get an alert. This allows the SLED entity to receive multiple proposals or bids from qualified local providers. As part of the COSTARs program, SLEDs receive discounts on goods and services, ensuring cost efficiency for their project.
Profound Technologies is a proud COSTARs member under Contract 34, providing work for theaters and auditoriums, furniture, fixtures, audio/visual equipment, and musical instruments.
Why Profound?
Our strong partnerships with vendors like Logitech, Yealink, and Crestron enable us to provide the best pricing on products. Once a system is deployed, we maintain close relationships with vendor contacts, ensuring that we can support any hardware needs and address any technical questions the client may have.
Our systems engineers are pleased to offer personal product demonstrations in our state-of-the-art showroom. This allows end users to experience a test drive of our automation and video conferencing systems firsthand. We believe ease of use and simplicity are crucial, and having a technical expert present during the demonstration ensures that all of a client's questions are answered.
Don't take our word for it: Our work speaks for itself.
Profound Simple: A Proven Approach
West Brandywine Township is an excellent case study. In the fall of 2022, West Brandywine overhauled their town hall meeting space with new equipment, including cameras, QSC digital processing, and Crestron automation to control their Zoom Room. According to Dan Shadow, the account executive who worked with the township manager, simplicity was key for the new video conferencing system. (quote from Dan would be great.)
Profound Technologies proved to be an integral partner when a major school district in the Philadelphia area needed to rebuild a TV studio and update their large conference room. Other contractors were involved already, installing cabling, televisions, and broadcasting equipment, and they recognized the need to involve Profound for a full Crestron deployment and digital signal processing (DSP) configuration. A rock-solid, easy-to-use system was essential for this application, which high school students will use to learn about television production.
Profound is also a reliable technology partner when the stakes are high, like at the US Supreme Court. Crestron introduced a government prime contractor to Profound Technologies, to implement an advanced security system that met the needs of police and fit within a limited space for hardware. You can read more about the successful deployment here:
The West Brandywine Town Hall Room is a unique hybrid meeting space designed for planning meetings and board meetings while maintaining aesthetics. The room will feature advanced audio and video capabilities, including three new displays: an 80" 4K display on a rolling cart with equipment, a 98" wall-mounted display, and a 65" display on a movable cart for better visibility. It will have (8) wired microphones and (1) wireless handheld microphone for local presentations and video/web conferencing. Eight speakers will be installed for proper room amplification. Users can connect via HDMI or wirelessly through Zoom App, Zoom URL, or Apple Airplay for content distribution. The system will support video conferencing through Zoom and USB BYOD Web Conferencing. Three PTZ cameras will be used for video/web conferencing, positioned to capture the audience, the board, and the document table. Control will be simplified through a single-touch interface hardwired to the equipment rack and mirrored on an iPad for wireless control. Additionally, (4) Low Profile Confidence Monitors will be evenly positioned across the board table for better viewing.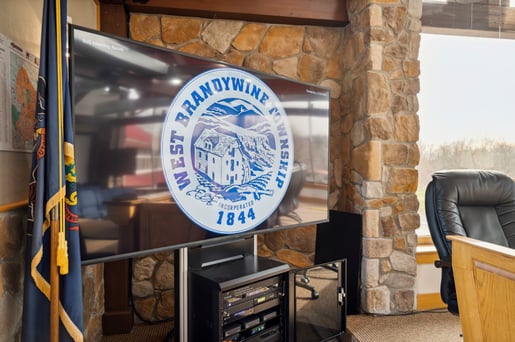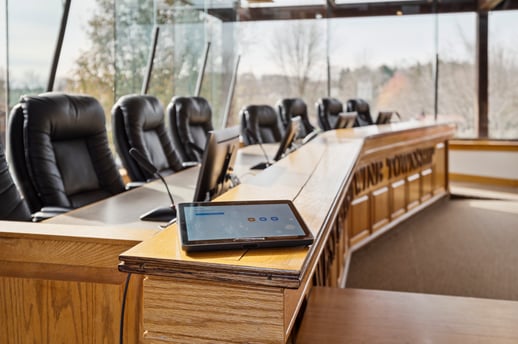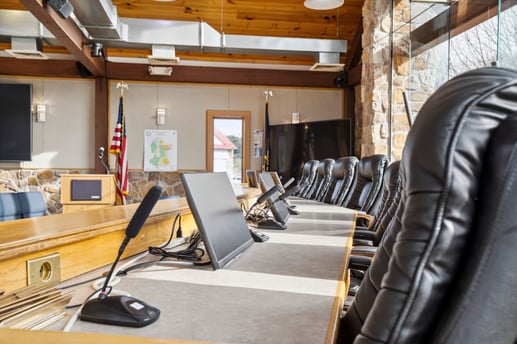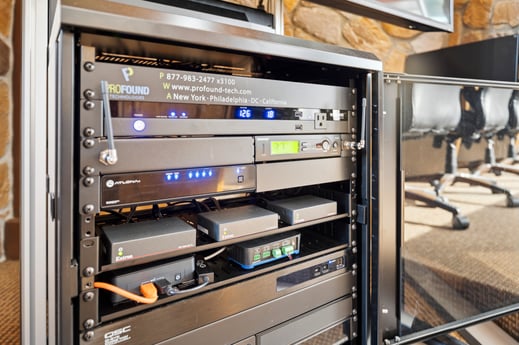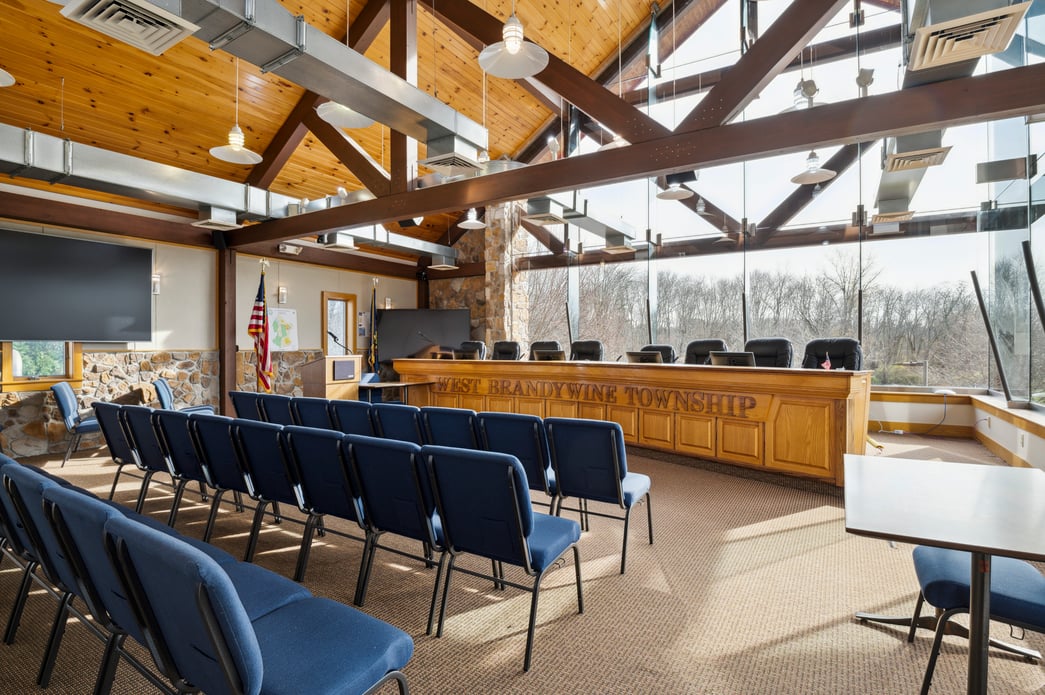 Choose Profound Technologies as Your Trusted Technology Partner for Unmatched Expertise and Support
No matter the scope of your project, a reliable technology partner is crucial for your success. Profound Technologies is uniquely positioned to provide hands-on experience with guidance from system engineers at our showroom location in Chester Springs, PA. From a thorough needs assessment to elegant designs, to expert deployments, Profound Technologies provides a consistently top-notch experience for end users. Our experience and track record in the public sector makes Profound an excellent choice for a COSTARs organization. Don't hesitate to contact us if you are seeking your technology partner.