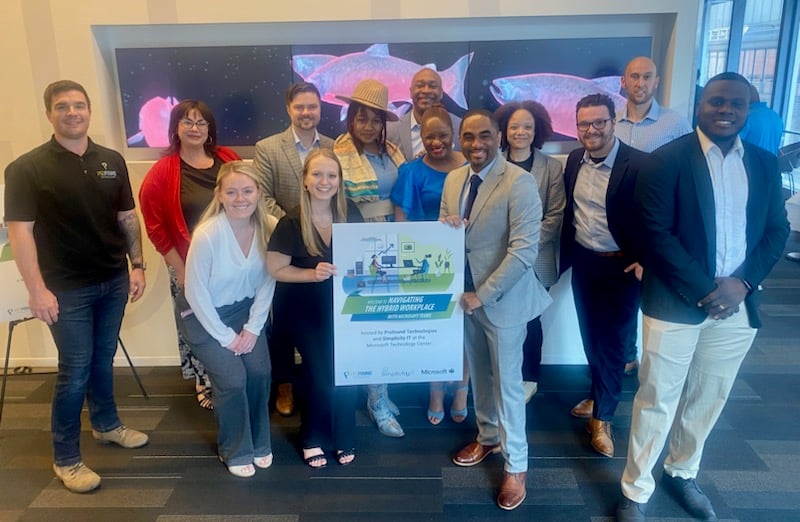 Thanks for stopping by!
The Profound sales team had a blast presenting and connecting during this event! We partnered with Simplicity IT while Microsoft hosted the event in New York City. We caught up with some customers, new and existing, and greatly valued the chance to connect in person!
If you missed it, here are some highlights of our event! Join us for our next event with Logitech/Zoom, on May 17. Click here to register!
Event Highlights
Simplicity IT's Presentation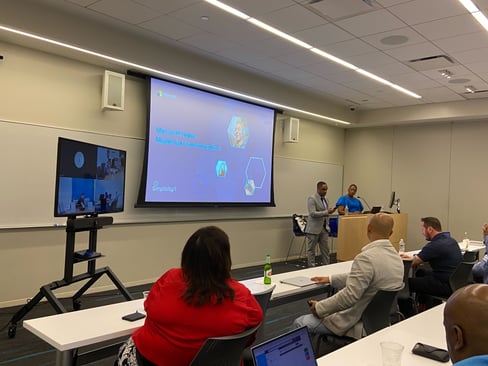 Simplicity IT presented Microsoft Teams solutions for remote and hybrid workers. The presentation emphasized the power and versatility of Microsoft Teams in enhancing productivity and collaboration in the modern workplace. With the rapid shift towards remote and hybrid work models, Simplicity IT highlighted how Microsoft Teams serves as an all-in-one platform, providing seamless communication, file sharing, and project management capabilities. The presentation showcased the various features of Microsoft Teams, such as video conferencing, chat channels, and document collaboration, which enable remote and hybrid workers to stay connected and work together efficiently. By emphasizing the simplicity and user-friendly nature of Microsoft Teams, Simplicity IT demonstrated how the platform can effectively streamline workflows, foster teamwork, and ensure a smooth transition to the new work landscape.
The presentation highlighted the security measures integrated into Microsoft Teams, ensuring data protection and compliance with privacy regulations. Simplicity IT's comprehensive overview of Microsoft Teams solutions for remote and hybrid workers shed light on the platform's capabilities and equipped attendees with valuable insights and strategies to optimize their digital work environments in today's dynamic landscape.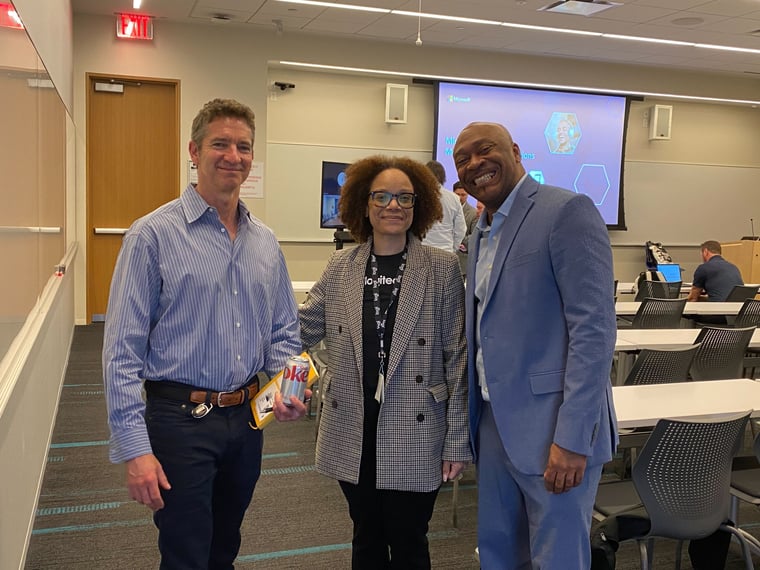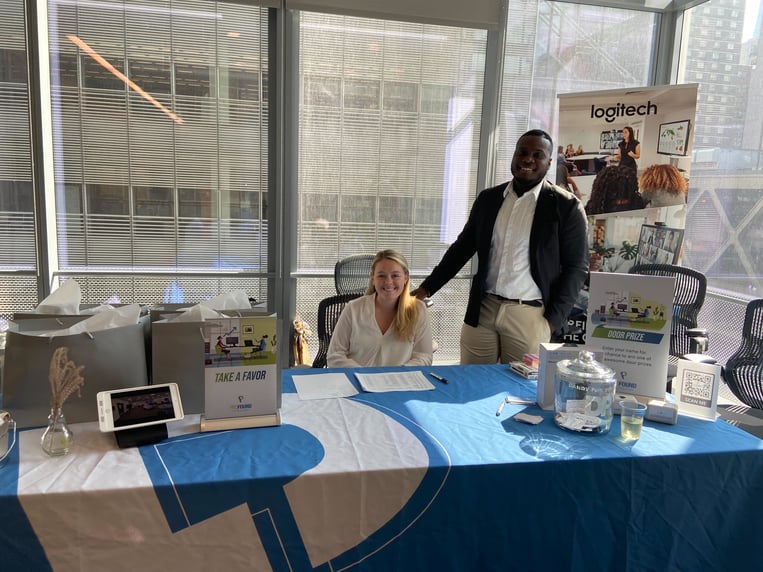 Profound Technologies' Demo
We showcased Microsoft Teams conferencing capabilities on Logitech's meeting room packages. During our demonstration, we emphasized the seamless collaboration and enhanced meeting experiences that can be achieved through the combination of Microsoft Teams and Logitech's state-of-the-art hardware solutions. We showcased how organizations can transform their meeting spaces into cutting-edge collaboration hubs by integrating Microsoft Teams' robust communication features with Logitech's purpose-built meeting room packages.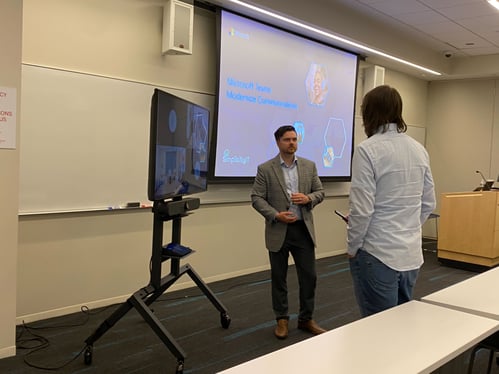 The presentation highlighted the powerful capabilities of Microsoft Teams conferencing, including high-definition video and audio quality, screen sharing, and virtual whiteboarding, all facilitated by Logitech's intuitive and feature-rich meeting room packages. With this integrated solution, Profound Technologies effectively showcased how businesses can streamline their conference room experiences, enabling participants to join meetings effortlessly, share ideas, and engage in productive discussions regardless of their physical location.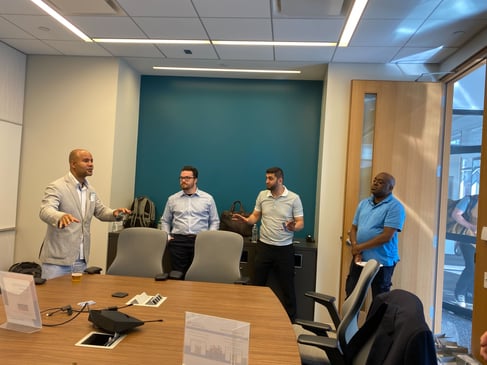 The seamless integration between Microsoft Teams and Logitech's meeting room packages presented by Profound Technologies demonstrates the commitment to innovation and creating immersive meeting experiences that empower organizations to collaborate effectively in the modern digital landscape. By combining the industry-leading capabilities of Microsoft Teams with Logitech's cutting-edge hardware solutions, we showcased a future-forward approach to conferencing that promises to revolutionize the way teams connect, communicate, and collaborate in today's fast-paced and increasingly remote work environments.
Microsoft Technology Center in Times Square
We were grateful for the opportunity to partner with Microsoft for the event, as it allowed us to showcase our solutions in their impressive and innovative space, further amplifying the impact of our offerings.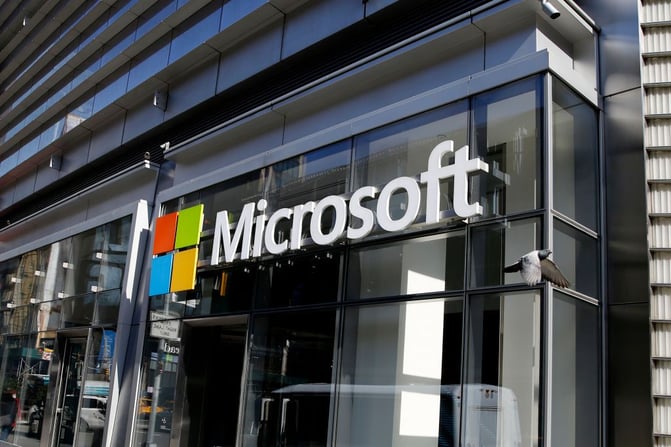 Microsoft Teams Deployment
When approaching your Microsoft Teams deployment, a certified integrator can provide design and onsite implementation support to streamline your deployment plan and simplify the meeting experience. As a Microsoft Solutions Provider, Profound Technologies provides Teams solutions and seamless integration for collaboration rooms nationwide. We offer standardized room packages through Logitech, Poly, Crestron, Lenovo, and other top manufacturers in the industry. We can design, engineer, and install cutting-edge custom solutions for more complex technology environments.
Profound Technologies goes the extra mile by providing managed services, encompassing both onsite and remote support, to promptly address any issues that may arise. Our dedicated team works tirelessly to deliver a seamless meeting room experience, ensuring our clients' utmost satisfaction. Collaborating with a partner like Simplicity IT, which shares our commitment to customer-centric solutions and specializes in Microsoft Teams, allows us to offer a comprehensive suite of services without any conflicts, ultimately enhancing the value we bring to our clients.