Why a Check-in Station?
The idea of bringing employees back into the office amidst the pandemic has presented companies with a whirlwind of policies, difficult decisions, and various opinions. Whether workplaces have been open since March or are waiting for the vaccine to roll out, there has been a request for safety procedures and check-ins at entrances to help keep employees and guests healthy.
What makes the safest and most effective check-in station? While you should have extra masks, hand sanitizer, and a list of questions to verify symptoms, there has been a large demand for reliable and touchless thermometers to ensure that the office is fever-free.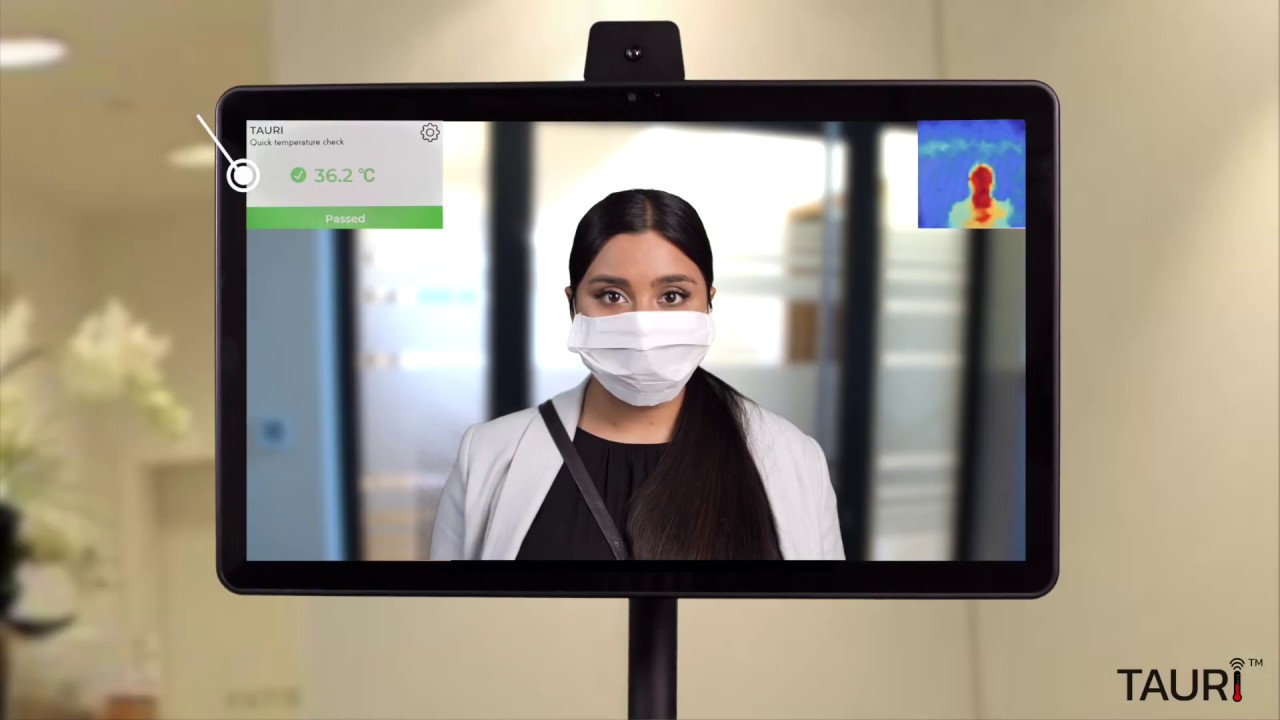 The Temperature-Check Tablet
No contact temperature scanners have been created as more than just a thermometer. TAURI by Aurora Multimedia released their Temperature-Check Tablet to be the first line of defense for your facility. Here are the top four reasons why adding a temperature scanner like TAURI's could be a crucial resource for your check-in station.
1. Accurate Temperatures
Quick question: has a handheld thermometer told you that your temperature was 89 degrees in the last couple of months? Yep, thought so. Give your guests and employees a reliable check-in experience with a temperature scanner that uses an advanced algorithm for detecting and calculating a person's heat signatures. TAURI's highly accurate sensor measures with a +/- 0.5 degree F tolerance.
2. Mask Up!
While masks are required, guests and employees should be expected to have one on and ready to go when checking in. With the sensor's face mask detection feature, the Temperature-Check Tablet will give a visual and auditory alert to tell guests to put a mask on and try again before entering the facility.
3. Touch Free
These days the fewer items we need to touch the better. Make a more hygienic decision for your organization with a hands free solution. TAURI's no contact temperature scanner works from 3 feet away and takes only 1 second to register the guest's temperature. There's no need to push buttons or stand an inch away from the tablet.
4. Centralized Monitoring
No matter how many TAURI Temperature-Check Tablets you have set up around your facility, you can monitor all the tablets from a centralized location. If your business is tracking building capacity, utilize TAURI's people counting feature to ensure a safe number of occupants who have successfully passed the check-in station.
Analyzing Your Need
Prioritizing the health and safety of your guests and employees is not an easy responsibility. By using a reliable and advanced temperature scanner like TAURI's, you are adding another layer of protection for your organization. Help ensure the people using your facility each day are healthy and encourage those who don't feel well or have a fever to go home and get the rest they need.
TAURI's Temperature-Check Tablets can be found in a variety of facilities, including healthcare, hospitality, education, corporate, and retail. If you are interested in incorporating these temperature scanners into your check-in stations, we are here to help! Profound Technologies is a certified dealer and integrator for Aurora Multimedia and TAURI and our team will be happy to make sure your business is set up with the equipment you need to keep your workplace safe.