This New Zoom World



In 2020, the word "Zoom" took on a whole new meaning: it became a synonym for meetings, communication, and gatherings. This video conferencing empire grew from 10 million users in Dec 2019 to 200 million in March 2020 and then 300 million in April.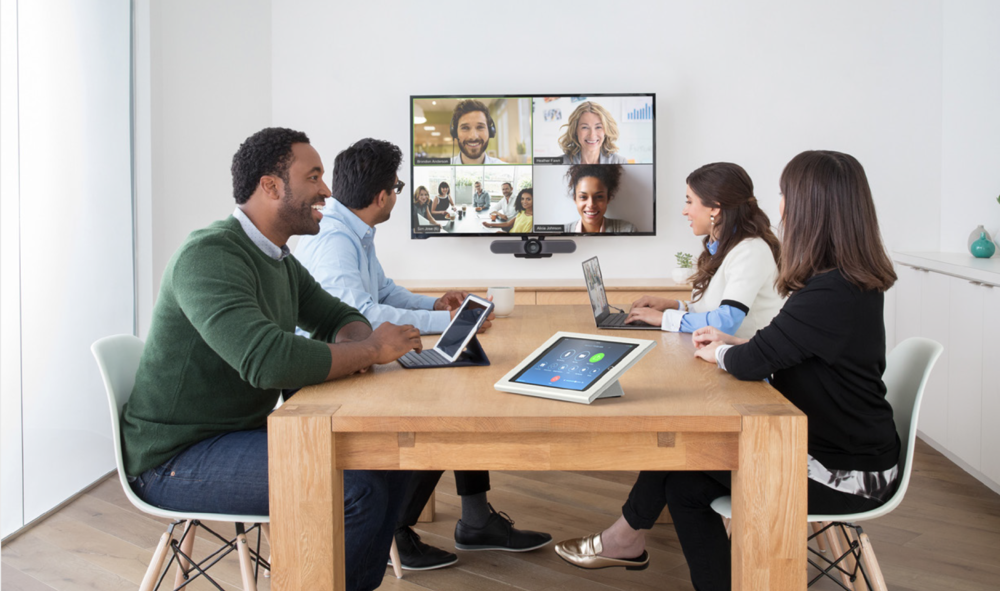 Thousands of companies moved their full staff onto this platform, and now many are facing the challenge of moving back to the office and seamlessly taking Zoom with them.
With Zoom Rooms, Zoom provides cloud conferencing solutions for physical meeting rooms, perfect for combining the remote and in-office workers into a unified, collaborative experience. This allows for companies to move away from on-premise video conferencing to a much more cost-effective and standard cloud solution that is flexible for any meeting room type.
Ready to move your Zoom meetings back to a physical location? Here is what you need to know about Zoom Rooms and implementing them into your meeting spaces.
Standardized Design
Zoom video conferencing is standardized and ready to be deployed for any meeting room type. By using prebuilt room designs, your system is thoroughly tested and efficient to roll out. As your company grows with more buildings and rooms, you then have the ability to easily deploy your Zoom Room system throughout your campus.
ProAV Equipment - New or Existing?
To properly implement your standard Zoom Rooms throughout your collaboration spaces, you need to ensure you have the right equipment in your conference room. The most basic setup requires a display, camera, speaker, mic, computer like PC, Mac or Chromebox, a touch panel such as an iPad, and of course, a Zoom Room subscription.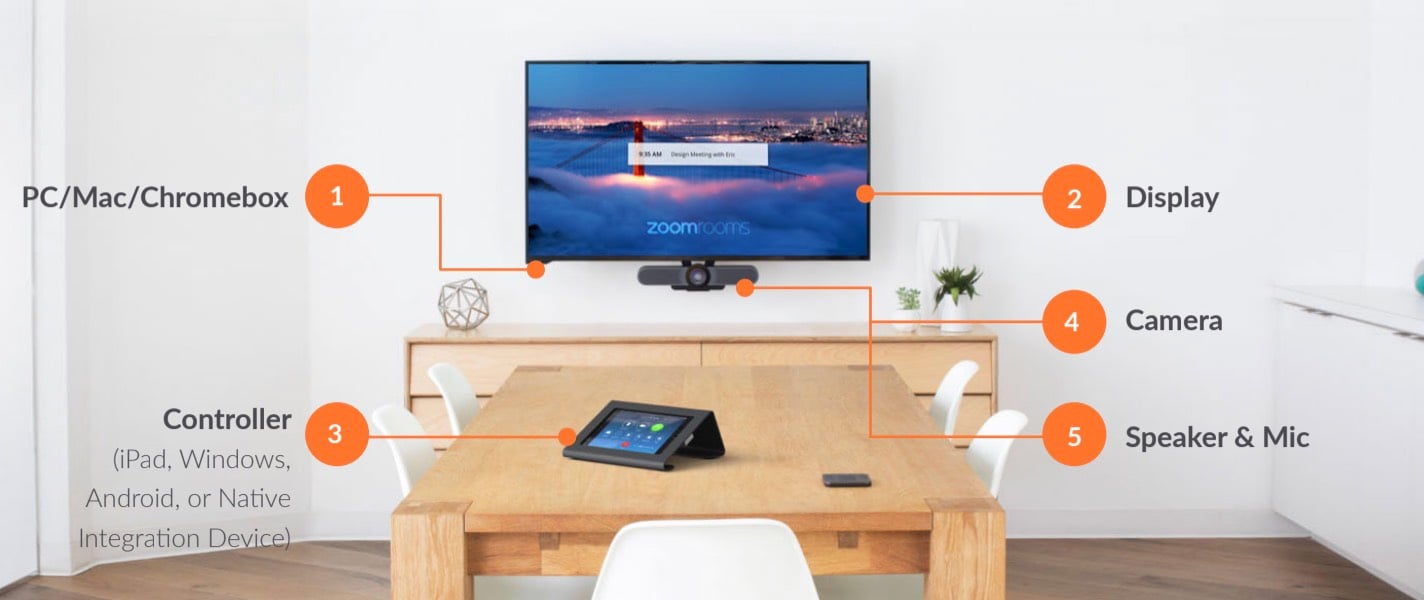 For a ProAV Room that seats 7-13 people we recommend:
2 TV displays
An HD PTZ camera
3 table-top microphones
Ceiling speakers
Mac or Chromebox
1 iPad as the room controller and another on the door as a scheduling display
Want to utilize your existing technology? As long as you have all the essentials pictured above, you can implement a Zoom Room with your legacy equipment. Legacy equipment can mean many things, but generally speaking if you have existing AV and/or video collaboration equipment, this technology can sometimes be reused. The ability to work with legacy equipment saves on the often unnecessary expense of "rip and replace."
Installation and Managed Services
While IT teams can handle some basic Zoom Room implementations, we recommend bringing in a Zoom certified integrator to ensure everything is installed properly, allowing for an easy and reliable meeting experience! By trusting an integrator, you hand off any implementation concerns, and they can ensure all of your rooms are standardized and set up for your native Zoom meeting experience.
While Zoom often handles the support for their cloud solutions, what happens when your hardware and devices fail? Whether you have new or existing Zoom Rooms, a reliable managed services plan is a worthy investment to care for your system in the long run.
Here are some key components of a service plan to keep the technology in your Zoom Rooms healthy and reliable.
Live phone support
24/7 ticket submission
Same day issue response
Remote diagnostic software to solve issues over the phone
Annual preventative maintenance visits
Emergency onsite support
Take care of your system and your many Zoom Rooms through a service provider who can support every piece of equipment in all of your meeting rooms.
Rely on a Gold Certified Integrator
Whether you are keeping your legacy equipment or creating Zoom Rooms from scratch, bring on a Zoom partner to help with engineering, installation, and support. Profound Technologies is a Zoom Gold Certified Integrator with over 20 years of experience in the AV space.
To learn more about Zoom Room implementation, hear directly from the experts! Listen to our webinar from January 28th to hear Profound Technologies' COO Kevin Busza and Head Engineer Gabe Gonzalez discuss Zoom's standardization, the best designs and equipment for your Zoom Rooms, and the proper way to support your system long term.