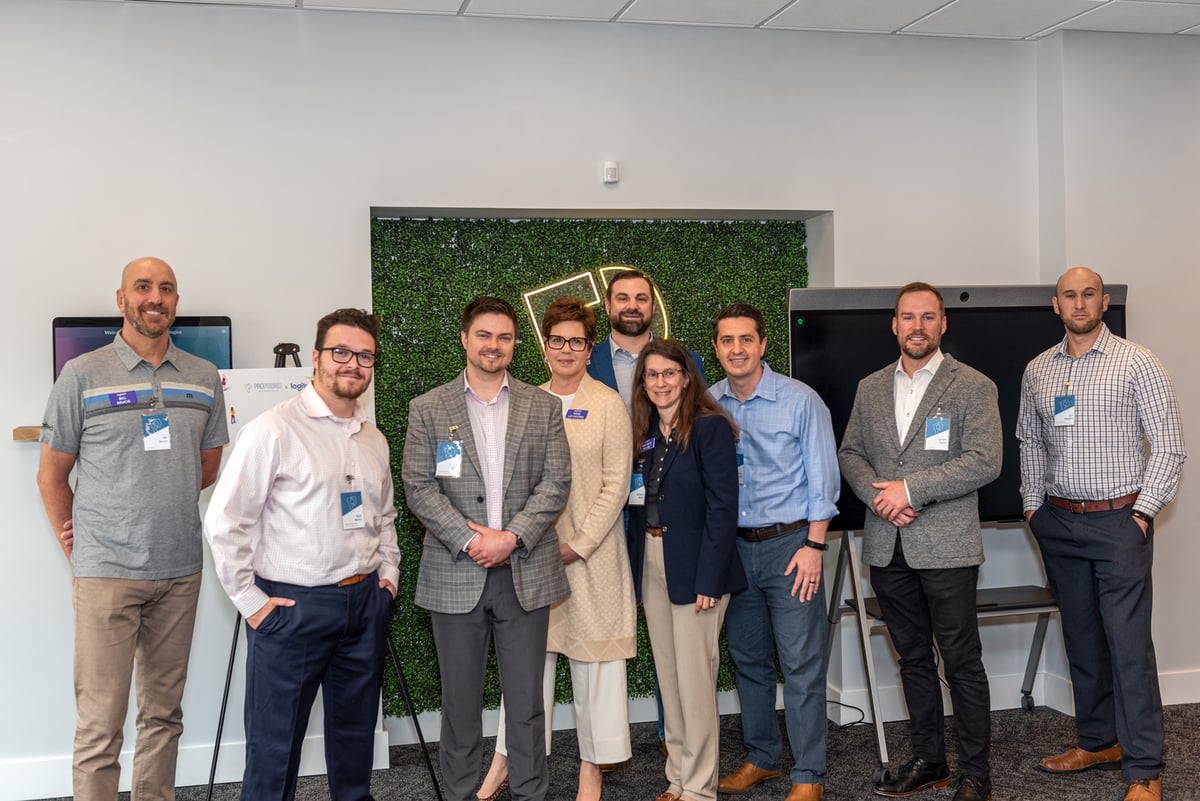 Back to Events!
After years of virtual networking and meetings, it's refreshing to gather together again! Our first in-person event since the pandemic had a buzz of excitement as we met some partners face to face for the first time and walked through some demos together. Profound Technologies co-hosted this Experience Center Open House with our partners Logitech and Zoom. We are Gold Certified Integrators for both companies and were eager to set up this event to demo our combined solutions and interface with each other's network.
On May 19, 2022 we opened up our East Coast office to tour our Experience Center, introduce the Zoom and Logitech experts present, and enjoy some food and drinks with our guests. Here are a few of our highlights from our Experience Center Open House with Logitech and Zoom.
Experience Center Open House Highlights
Experiencing Different Meeting Room Setups

Our Experience Center was set up in various stations, allowing guests to try different room types hands on. On the Logitech side of the room, experts were set up at two conference room replicas featuring Rally Plus and Rally Bar. The Scribe demo was a popular station as guests could scribble, doodle, and see the whiteboard in action! On the Zoom side, guests could experience Zoom's native interface on the Neat Board, see digital signage on the Neat Bar, and demo the Virtual Assistant feature.
Profound's COO Kevin Busza found the setup of the event very successful. "A highlight of the Open House was the ability to show how Zoom works in conjunction with Logitech to deliver different meeting rooms experiences for various room size use cases," he says. "Our IT partners Zoom and Logitech were excited to use the Experience Center to show customers since the hands-on experience is so valuable for helping users make the right decision for their particular space."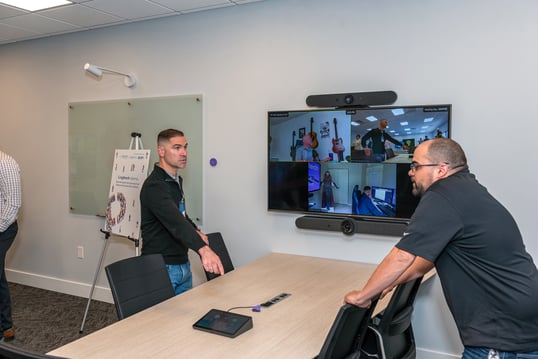 Meeting the Experts - In-person and Remote
Having both Logitech and Zoom team members and executives in-person had a huge impact on the guests. It was a unique experience for many of our end users and partners to have direct interaction with professionals who work at these influential companies-the true experts in the Logitech/Zoom conference solutions. While we were thrilled to have Logitech and Zoom team members in-person, our various room stations also had experts join in remotely to speak with guests and assist with demos. It felt humorous to have Zoom experts "Zoom" in, as their brand has become a common-place verb. Having these extra people on deck helped show off the different stations and bring more expertise to the conversation.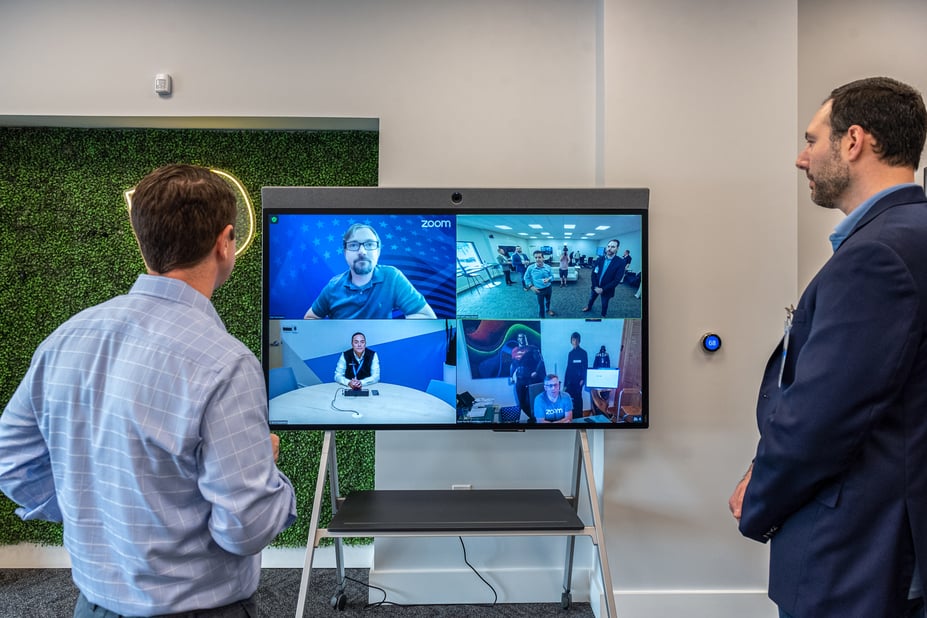 BYOR Now Demo
At the Profound Technologies station, we were able to demo our new E-commerce website BYOR Now! Through this website, customers can buy room packages from Logitech and other manufacturers online, choosing between equipment only or labor inclusive options. The team at Logitech are excited to utilize this resource for end users, just as we are! Peruse our products and purchase the conference solutions you need at byornow.com.
Making it Special with Door Prizes
Logitech went above and beyond with the Door Prizes they selected for this event! We gave away a Yeti Nano, Boom 3, Hyper Boom, TrueForce G923 Racing Wheel, and the popular UE Fits! The winners were thrilled to bring home these new gadgets and share with their families!

Food, Food, Food!
Of course every party needs some good food! Local Italian restaurant Montesano Brothers catered our event, providing hoagies, cheese steak egg rolls, Stromboli bites, and more! Our guests were thrilled with the selection and the quality! Check out their menu for your catering needs or even just a yummy lunch!
It's Just the Beginning
The partnership Profound Technologies experiences with both Logitech and Zoom is unique and growing every day. With our Gold Level Certifications, we have direct access to the best these tech companies have to offer, and now our customers and partners can benefit from that relationship in the solutions we can provide.
While Profound Technologies has over 20 years of experience in the industry, there are many exciting changes. Our Experience Center has been taking meetings and demos for the last several months, and you can book a time to visit here. We are launching our first E-commerce website BYOR Now to meet the need of immediate conference solution purchases and deepen our partnership with manufacturers like Logitech. We are excited for future events, collaboration, and business through our partnership with Logitech and Zoom and hope you all can join us for the journey!