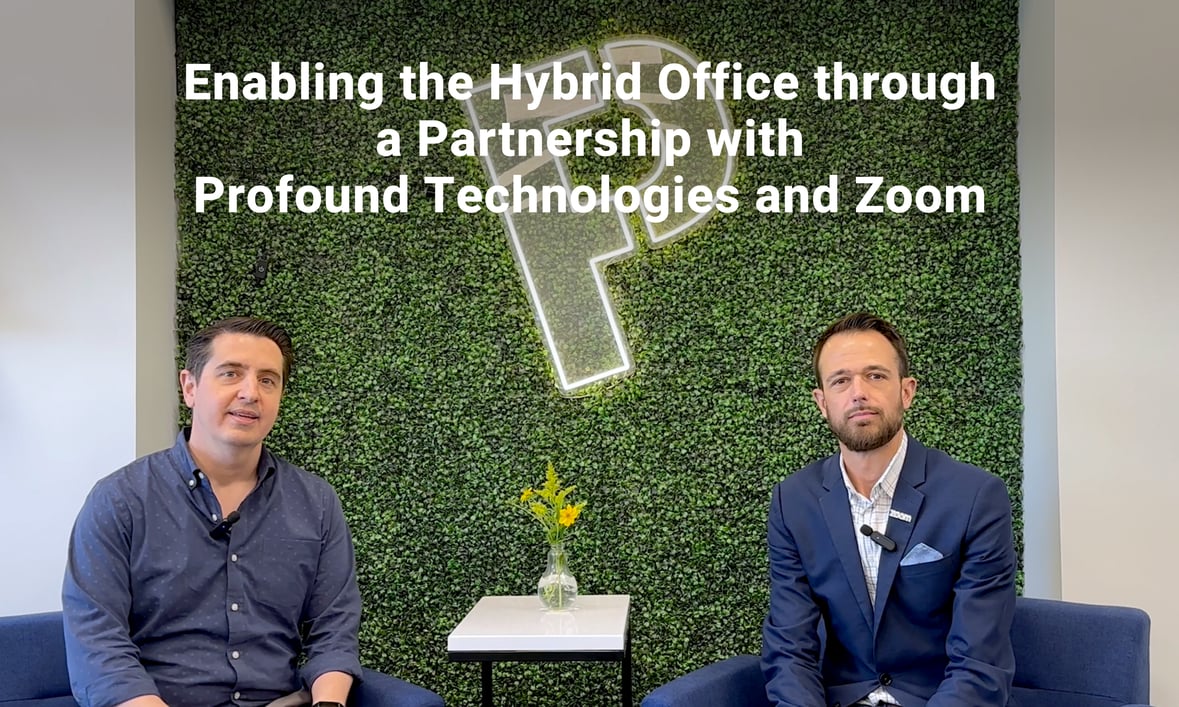 Streamlining Communication between Zoom and Profound Technologies
In this insightful conversation, Kevin Busza from Profound Technologies engages with John Stearns from Zoom, delving into various compelling topics that shape the Zoom landscape.
Key Discussion Points
Zoom patterns That Are Changing: The discussion begins with an examination of the dynamic patterns that have shaped Zoom's trajectory in recent years. The idea of hybrid meeting equity is highlighted as a new development that captures the changing dynamics of meetings in a fusion of digital and physical workspaces.
Revolutionizing Visual Experience: The debut of the Smart Gallery is one intriguing project that takes center stage. This ground-breaking idea enables users to take advantage of a single camera's capabilities within a Zoom room, deftly framing the faces of numerous participants at once. The discussion digs into how this innovation will improve visual cooperation.
Triumph of Intelligent Director: The discussion delves further into the success of the Intelligent Director film, which takes advantage of the integration of multiple cameras. The panel discusses the impact of this advancement on optimizing video communication, highlighting its successful implementation.
Showcasing Profound Technologies' Innovation: The discussion must include a discussion of the Profound Technologies Experience Center's resources. This highlights the symbiotic relationship between technological prowess and user experience and is a monument to the innovation that drives the Zoom Platform.
Integration of the user interface seamlessly: This is followed by a discussion of Zoom's interface interoperability. The conversation highlights Zoom's seamless integration, which enables users to use the platform quickly and easily.

Kevin Busza and John Stearns illuminate Zoom's many features through their enlightening conversation, highlighting both the platform's innovative foundation and its useful applications in the field of contemporary communication.


Watch Full Video Here!
John Sterns' Zoom Presentation
John delved into the latest updates and enhancements in Zoom Rooms during the presentation, such as Smart Gallery and Intelligent Director.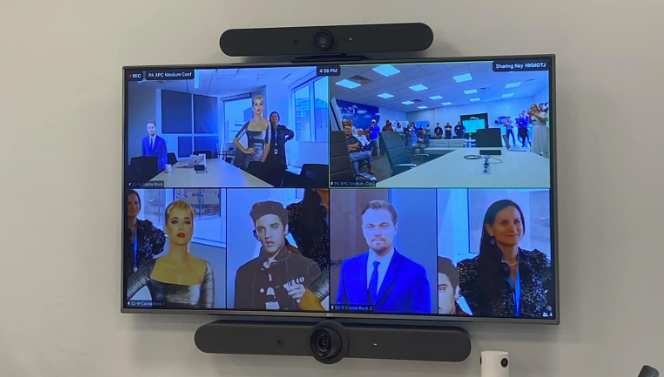 "We launched Smart Gallery just two years ago, leveraging a single camera in a zoom room, framing those multiple faces simultaneously. A challenge we faced was figuring out how we bring that experience to a room that is larger. That's where Intelligent Director was born. This takes that experience by leveraging up to three cameras all working together, grabbing the best possible view of each participant, and sending that into the meeting. We are building on the success we've had with Smart Gallery and bringing it to larger and more complex spaces with multiple cameras." -John Sterns, Zoom
Intelligent Director uses multiple cameras in a Zoom Room to determine the best angle of the individuals in the room to display within the meeting. With high-quality, reliable video and voice, Intelligent Director also provides a best-in-class experience for remote participants.
Attendees were captivated as John demonstrated the seamless integration of Zoom Rooms with various devices, ensuring a streamlined and immersive meeting experience.
Zoom Demo Showcase by John Sterns'
Learn about the Innovative Features:
Logitech Devices via Zoom Kiosk: Use a specific Zoom Kiosk to easily navigate Logitech Devices. Easily book a room and customize your preferences. Simply scan the QR code to gain access right away.
Streamline room reservations with scheduling tools for scheduling. Using the panels to directly make a reservation will increase convenience and efficiency.
Zoom Room for Touch: Zoom Room for Touch lets you experience the future of intuitive control. Manage the user interface with ease right on the gadget, and it will become a flexible collaborative whiteboard tool. Take advantage of seamless device-to-device collaboration.
Logitech Rally Plus System with Dual Screens: The Dual Screen Logitech Rally Plus System will improve your visual communication. Engage in lively discussions and presentations to improve
Zoom meetings can be improved with Logitech Scribe integration. Integrate it seamlessly into your Zoom meetings for more engaging and fruitful discussions.
Explore Zoom's adaptability in a variety of venues, including huddle rooms, large conference setups, and multifunctional training rooms. Zoom promotes effective communication by adapting to various surroundings.
Witness the strength of the Profound Technologies-Zoom cooperation in this demonstration of the partnership. Discover the ground-breaking Build Your Own Room (BYOR) feature, a perfect example of how Profound Technologies and Zoom work together.

At the Zoom Demo Showcase, John Stearns cordially invites you to explore these outstanding features. Discover the future of cooperation and seamless communication.
Watch the Full Demo Here!
Redefining Collaboration with Zoom and Profound Technologies
The enlightening conversation between John Stearns from Zoom and Kevin Busza from Profound Technologies revealed Zoom's development, demonstrating its cutting-edge initiatives like Smart Gallery and creative trends like hybrid meeting equity. Success stories like The Intelligent Director, the Profound Technologies Experience Center, and the seamless interface integration of Zoom demonstrated the company's dedication to the user experience. Join John Stearns' Zoom Demo Showcase as we come to a close to see what seamless collaboration will look like in the future.
Schedule a meeting now to meet with an expert on Zoom!