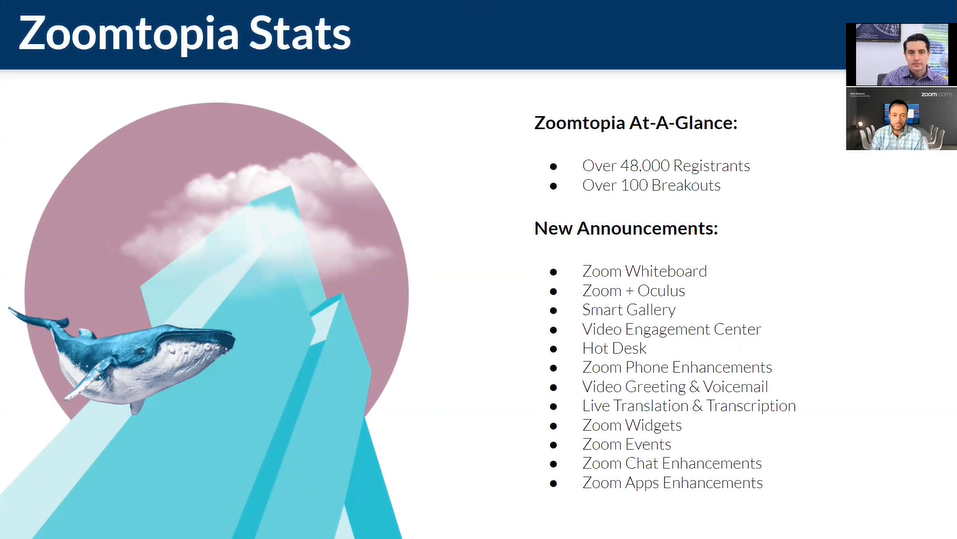 Zoomtopia 2021 in Review
Over 48,000 people attended Zoomtopia 2021 this past September, and the list of new announcements for 2022 was lengthy and intriguing. John Stearns with Zoom Room Enterprises joined Profound Technologies' COO Kevin Busza for a discussion on Zoomtopia and the new features to look forward to with Zoom in 2022. While this pre-recorded webinar is available to watch here, we wanted to whet your appetite with some main highlights from this conversation. Ready to find out what these Zoom experts are anticipating in the new year?
John and Kevin's Favorite Announcements
Smart Gallery
Let's start with the announcement that both John and Kevin listed as one of their favorites from the Zoomtopia event. Zoom's mission and motto for Smart Gallery is "Democratizing the Meeting Experience", making the meeting experience equal and inclusive for all attendees, whether in the room or remote.
Everyone got used to the Gallery View or "Brady Bunch" style during the pandemic, and both John and Kevin said the feedback they were receiving requested a view where they can see everyone even after transitioning back to the office. Now Zoom can frame the faces in the conference room and include them back in the Gallery View so that you can represent each attendee. This feature shows the evaluation of speaker tracking and multiple camera streaming in meeting technology.
Smart Gallery is on Neat and Poly devices now and will be available for Logitech's packages by the end of the year. Many of Zoom's and Profound's customers are eagerly seeking to get this feature set up in their meeting rooms for 2022.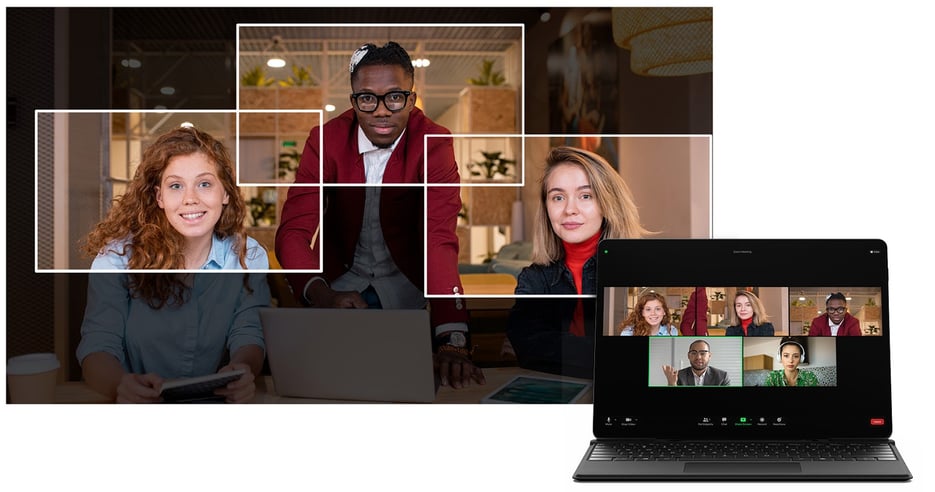 Zoom Appliances
Kevin and Profound's team are very excited about the growth with Zoom Room appliances, especially for large conference rooms. For those who are less familiar with Zoom in conference rooms, Zoom Appliances offer the native Zoom meeting experience directly on the operating system of the product packages. By integrating Zoom into Poly, Logitech, or Neat room solutions, it allows for lower costs, better representation of Zoom's features, and a more reliable system.

Previously, large conference rooms required more of a custom solution, but now Zoom's three main hardware partners all have packages for rooms ranging from 9-18 people or more. Between the Poly X70, the Neat Bar Pro, and the Logitech Rally Bar Plus, these appliance packages have the high-quality equipment needed to capture individual faces and voices, even in these larger spaces. Both John and Kevin are impressed with our affordable these solutions can be for large organizations to roll out.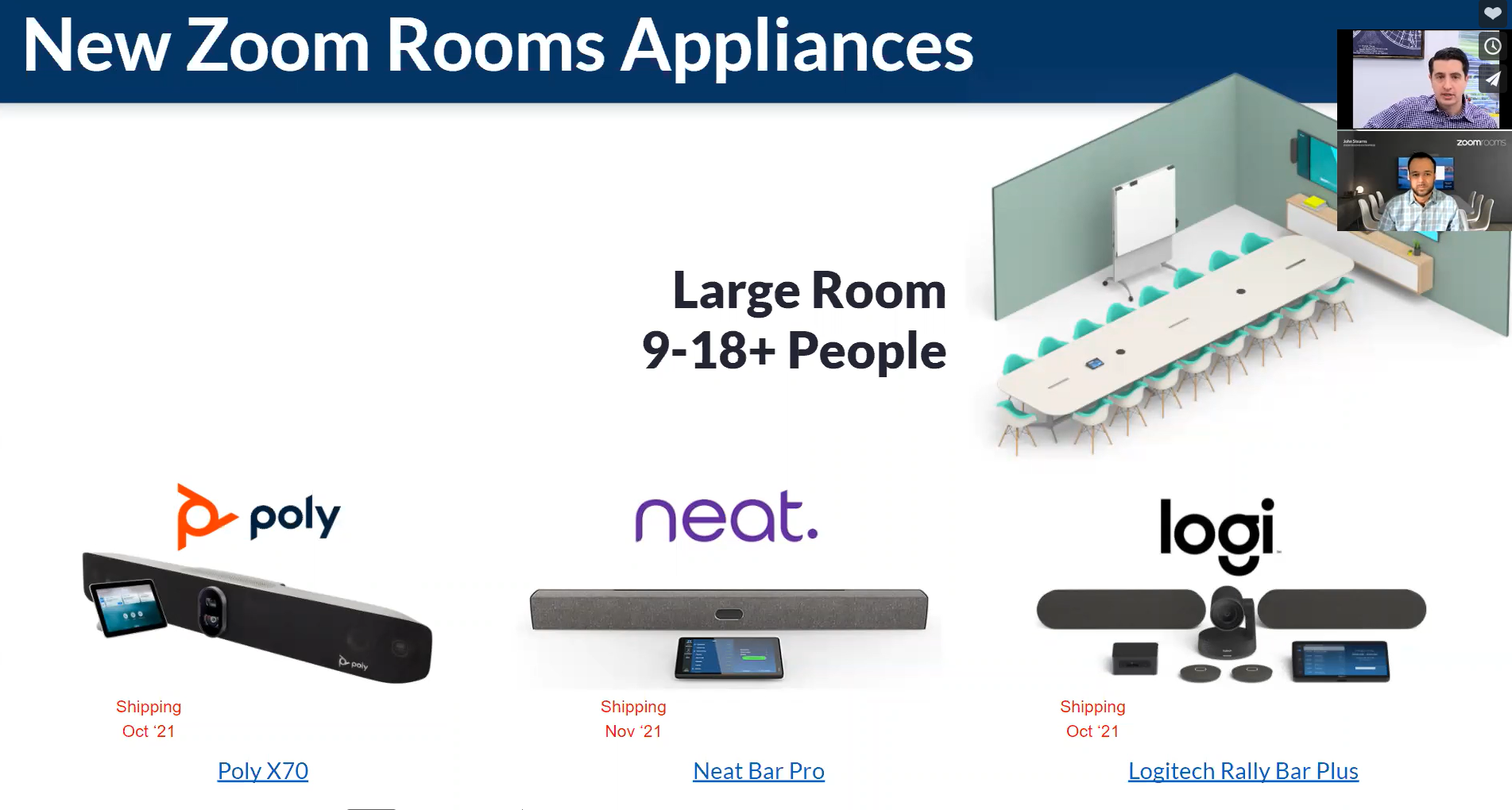 Zoom Whiteboard
The evolution of Whiteboards is evident in the industry each year, and now Zoom is offering a more advanced and modern feature intuitively in physical and virtual Zoom Rooms, whether in the meeting or not. John chose this new announcement as one of his favorites for the new year. This whiteboard update is a revamped experience from what Zoom currently offers and the robust feature log that will be pushed over the next few releases is truly impressive.
Whiteboarding is included in the core Zoom service and is simple enough for many users to dive into right away, from the diagrams, sticky notes, and more, and to share in meetings seamlessly. We are excited about how easy this is to adapt, for any user.
And the List Goes On...
Were Kevin's and John's favorite updates on your list of exciting Zoom features for 2022? Or maybe one of these other topics they discussed spoke more to your work or organization:
New Personal Zoom Rooms - run your own Zoom account on devices in home offices or open workspaces
Rooms Interoperability - easier integration with Teams, Webex, and Bluejeans meetings
Zoom Virtual Kiosk - used for virtual reception, IT support, QR codes, and more
Room Scheduling & Hot Desk - schedule a room or desk from any place, any device
Zoom Phone Update - new video greetings, zoom phone appliances, and more
Video Engagement Center - personalize interactions in use cases from simple administration to healthcare visits to banking
Zoom Chat - enhancements and improved integrations
Zoom Events - platform for virtual conferences and multi-day events
For more details and professional insights from Kevin and John, watch the Zoom x Profound Updates Webinar. Let us know which feature updates are the most exciting for you! As your organization prepares for a clean slate in 2022, rely on Zoom Gold Certified Integrator Profound Technologies for more information on Zoom's announcements and onsite install and support for your Zoom rooms.