Engaging the Imaginarium and the Future of Zoom
This September, 33,000 attendees gathered in the virtual Imaginarium for the 5th annual Zoomtopia event. Through dozens of sessions, breakout rooms, and special speakers, Zoom highlighted some new announcements and innovations they have coming to expand the user experience.
Since the beginning of the pandemic, Zoom has grown exponentially in solutions, revenue, and influence. As we near the end of the pandemic, Zoom has developed resources to enhance collaboration and video conferencing quality for the hybrid workplace. According to their session on "Best Practices for Designing a Collaborative Hybrid Workplace" by Zoom Solutions Architect Ty Buell, employees want both the community and culture of an in-ofice experience while having the trust and flexibility from their employer to work from home. Because of this massive and seemingly permanent shift to hybrid work, office spaces need to be rethought and redesigned with the technology and facilities to meet the need of the modern workforce.
As we all prepare for a new year in 2022, Zoom has several new updates and features they will be rolling out for their users. Take a look at our Top 12 Insights from Zoomtopia 2021.
Top 12 Updates and Insights
1. Live Translation and Transcription
As Zoom strives to expand communication around the world, Zoom's automated transcription will reach 30 different languages and will add live translation for 12 languages in the next year. Zoom not only stretches to overcome the physical barriers in communication, but the language barriers as well.
2. Video Voicemail
With Q4 comes Zoom's new Video Voicemail feature to Zoom Phone, allowing for more personal messages to teammates. Now you can leave a video message and drop it right in your colleague's voicemail inbox!
3. Smart Gallery
Zoom Rooms Smart Gallery is the perfect resource for your new hybrid work environment. By using AI, Zoom creates individual video feeds of each person in the physical conference room so that remote meeting attendees can see each person clearly and equally. This will be generally available in December 2021, with further expansion in 2022.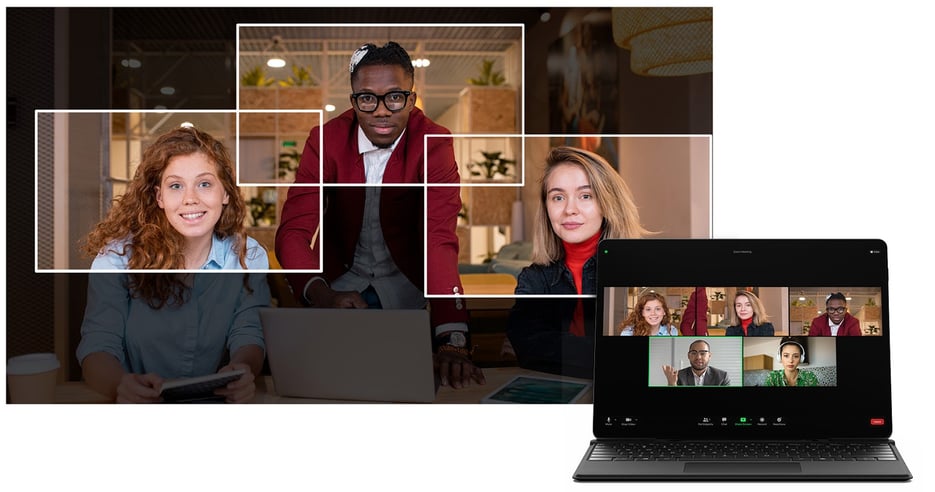 4. Hot Desking
In many hybrid offices, work stations and collaboration spaces are communal and sometimes rotated. Hot desking allows for employees to check into a desk or huddle space and then check out when their work is complete. Employees can book their spot using an interactive map, based on recommended seating arrangements by Zoom's AI.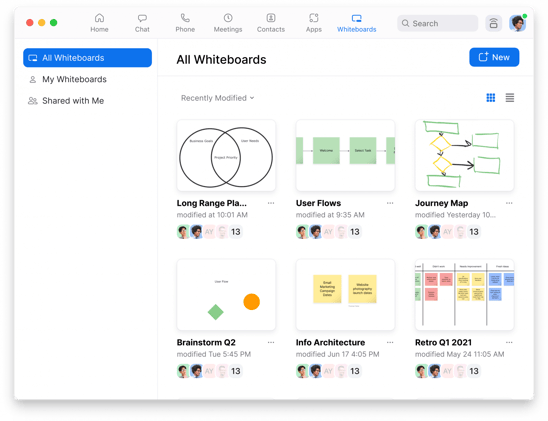 5. Zoom Whiteboarding
Another exciting addition to Zoom's solutions is the Zoom Whiteboard. This powerful tool is a virtual hub for real-time collaboration, where teams can connect from any device without being in a meeting. The Zoom Whiteboard will be a place for sharing ideas and mastering shared projects before, during, or after a virtual meeting. Access your Whiteboards anywhere and continue the collaboration.
6. Zoom Events Conference
Later this year, Zoom Events will launch Conference, a new event type where you can host multi-track and multi-day events with additional features. Now you can host an event over five days, utilize more robust branding, showcase sponsors, launch networking, and more. With Zoom Events Conference, organizers have a customizable experience to recreate their own virtual conference.
7. Zoom Video Engagement Center
Zoom's VEC is a cloud-based solution that allows your customers and your expert team members to communicate over video. By direct support and customer engagement, you can increase customer loyalty and offer a digital experience that solves the problem rather than increases frustration. Check out more ways the VEC can transform how you interact with your customers.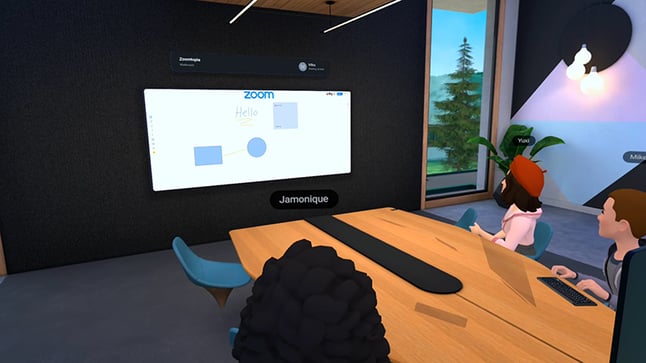 8. Oculus Integration
Through their partnership with Horizon Workrooms, Zoom aspires to bring the physical and virtual worlds together. Now users can access Zoom Whiteboard and Zoom meetings within a virtual workroom environment. Through virtual reality, users can completely immerse themselves in their Zoom meeting wherever they are, while they are wearing their Oculus headset. This engaging method of remote meetings should be launched early 2022.
9. Chat Integration
Zoom is chasing after its competitors as it becomes a full-stack collaboration platform like the rest. Another feature they have added is their chat integration. Through Zoom Continuous Collaboration your Slack, Cisco Webex, and Microsoft Teams communications can come with you into the Zoom Room.
10. Zoom Room Appliances
Zoom has expanded their hardware portfolio as packages for Zoom Rooms are available from Poly, Logitech, and more. Both the Poly Studio and Logitech Rally Bar series have Zoom conferencing built into the all-in-one video bars. These new solutions from Zoom's partners have helped integrate affordable and efficient Zoom Rooms right into office spaces.
11. Microsoft Teams Direct Guest Join
As part of Zoom's expanded interoperability, users can join a Teams meeting from a Zoom Room and vice versa. Zoom recognizes that people need to communicate, whether they use the same video conferencing platform or not. With Microsoft Teams Direct Guest Join, you can share the collaboration with Teams users seamlessly. Similar cooperative solutions will come with other competitors such as Cisco Webex, Go to Meeting, and Skype for Business.
12. Zoom Widget
With the Zoom Widget, you can access Zoom wherever you are and have a view of your meeting schedule, who is in what meeting, and chat features at a glance. Utilize the Zoom Widget to streamline your productivity and stay connected.
Getting Started with Your Zoom Rooms
As Zoom Gold Certified Integrators, Profound Technologies are experts in Zoom Room implementation. We help our customers transition to Zoom. If you are looking to redesign your office space or upgrade your existing rooms to Zoom, rely on a trusted technology partner to handle the project from design to installation to support. Check out more information on Profound Technologies and our work with Zoom.