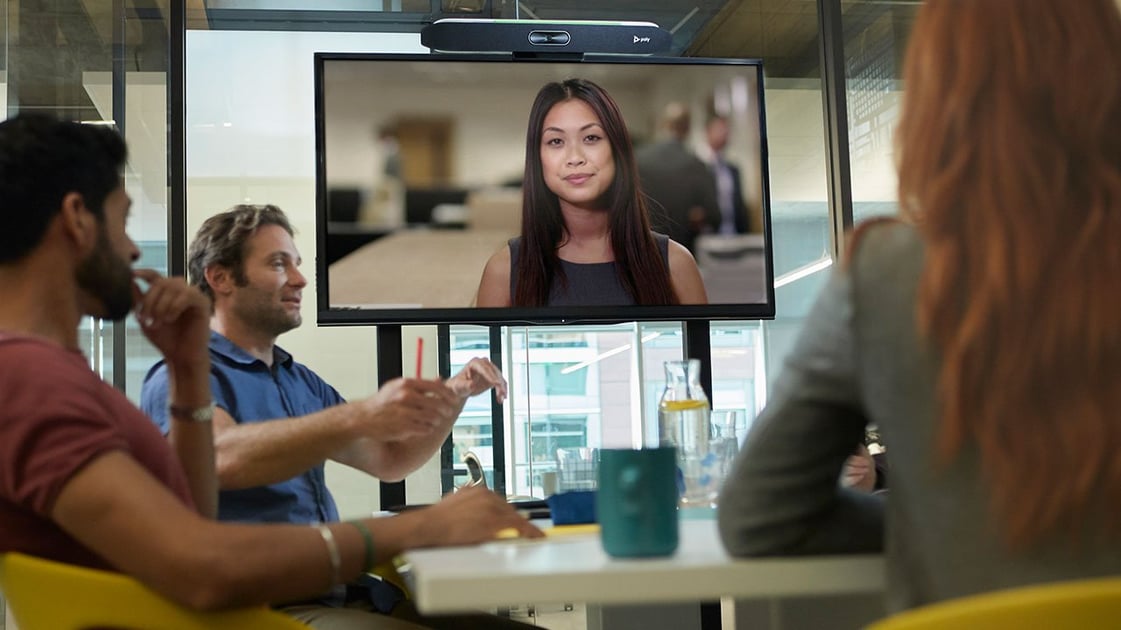 Recruit, Retain and Grow
This week, Poly released a study discussing the need and impact of hybrid spaces and strategies for the future of work. Titled Recruit, Retain and Grow, Poly analyzes topics that are heavy on the minds of employers and employees alike in 2022, from the Great Resignation to company culture in a hybrid workplace.
In a recent press release, John Goodwin, Poly's Senior Vice President of Public Affairs explains their stance on hybrid work: "At Poly, we believe that being able to enable a hybrid working environment is not the endgame, but a starting point for the competitive organizations today. Our latest research validates Poly's point of view. We found that employees are supportive of companies that take a holistic approach to defining their culture, offer flexibility in where and how they work, and are provided with the right tools to succeed."
The statistics in this report support the pull toward hybrid work as well as emphasize the obstacles that companies have been facing. All of these factors need to be considered as organizations shift their staff into the next stage after the pandemic.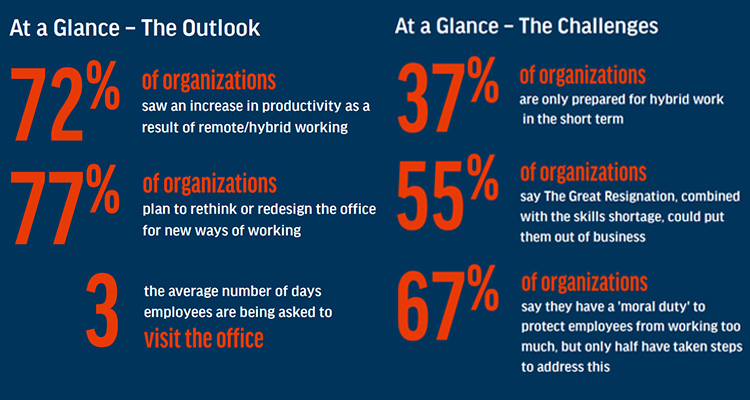 Changes in Retention
Many organizations have experienced "The Great Resignation" trend, referred to by professor Anthony Klotz, as members of their teams have left for another job for greater flexibility, more respect regarding the pandemic, or better pay and benefits. Over half of organizations believe that if they don't develop a hybrid work strategy, then they will struggle to keep their staff and recruit new talent.
A hybrid workplace has a large draw on job-seekers, as it balances in-office company culture with remote flexibility. By enabling hybrid or remote working, businesses can open up talent searches and build a more attractive reputation for both new and existing employees. Retain people by making them the priority in building out a plan for hybrid work.
Developing a Hybrid Strategy
Not every organization is prepared for a hybrid work strategy. In fact, a surprising number (52%) of employers believe that the hybrid workplace is a brief phase that will pass soon. Less than half of organizations are prepared for a long-term hybrid plan. However, Poly's report provides evidence and encouragement toward a more flexible approach to the workplace because the hybrid model is here to stay.
Companies that were surveyed had different viewpoints on how many days a week employees should come in on which days. Another note from Poly's research was that the role of the office is changing, which will require the proper technology and spaces for collaboration and purpose-driven visits to the office. As organizations formulate their strategy and roll it out to their team, it is best to offer flexible options based on the specific needs of their employees.
Productivity & Company Culture
Poly's study shows an increase in productivity through the hybrid work model. Many employees felt working from home allowed for greater work-life balance. However, 58% of employees felt there were limited boundaries when working from home and that they were always expected to be available. While increased focus has been a benefit to companies, employers need to maintain this balance of at home productivity and boundaries to prevent burnout. Employees should connect their company's culture to flexibility and respect, not overworking.
Another important aspect of company culture is the relationships between colleagues and employers and their employees. A properly managed hybrid work plan will encourage collaboration and career growth through relationships and time together as a team. While this is always valuable in-person, it is important to have the technology necessary to allow for seamless and easy communication between team members, remote and in-office.
The Hybrid Solution
Throughout this report, Poly highlights several benefits to hybrid work. The hybrid model can improve communication, interactions for employees and customers, and can improve accessibility for those involved in the business. It also provides the combination of a workforce that is productive, less stressed, and enjoying a work-life balance.
Another strong benefit of the hybrid strategy is the equality it provides for employees. Through new conference room packages, you can equalize the meeting experience for all attendees whether they are in-person or virtual. Another way to provide this equality is through redesigning office spaces for more open areas, collaboration spaces, and social areas.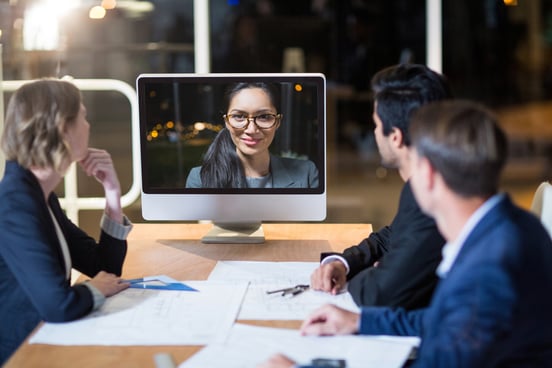 However, as organizations seek to make changes and investments to maximize the hybrid experience, there are two key considerations they should place front of mind: the people and the technology. If there are new offerings, flexibility, and workplace design, companies should consult employees as they will be the people affected by the changes. Invest in the people as a number one priority.
When it comes to providing the best collaboration and meeting experiences for employees, technology is an essential factor. If meeting spaces are being updated or redesigned, organizations should ensure that they have reliable and upgraded technology and integrations with the video conferencing packages they prefer such as Zoom or Teams.
Poly provides packages for a variety of collaboration spaces through their Studio X Series. Profound Technologies is a Poly Certified Dealer and is a trusted partner for Poly equipment and integration. If your organization is interested in implementing some of these packages for an increased hybrid strategy, we are here to set up and support your Poly solution.